We have had some great weather here on the southern coast of N.C. and the fishing has been good. We are catching good numbers of redfish and speckled trout and still picking up a few flounder. The striper bite has also been good in the upper Cape Fear River around Wilmington. We have had some beautiful days to be on the water fishing with lots of calm, warm days. Hopefully this trend will continue, if so the fishing should be good through the holiday season.
The redfish bite has been good to excellent on the days when the weather cooperates. Getting good weather days makes things a lot easier on locating reds and getting them to bite. There are lots of reds around, but somedays they are a bit skiddish and getting them to bite can be difficult. There are some large schools on the flats and smaller schools working the creeks and the sightfishing has been good when the winds are light. On the windier days we are concentrating our efforts in the smaller protected creeks where we can catch reds on artificials and live baits. Gulp scented baits are working best along with DOA paddletail jigs. Mud minnows and shrimp on light jigheads and carolina rigs are also working well. The reds have not fully got into their winter pattern and are still spread out. When the water cools a bit more they should bunch up and be easier to locate.
The speckled trout fishing is still going strong in the Cape Fear area from Wrightsville Beach to Southport. The specs are normally larger this time of year and we have picked up a few fish over four pounds. Most of the specs with me have been caught fishing the main creek channels of the lower Cape Fear. DOA soft plastic splittails, paddletails, and shrimp on popping floats along with Gulp Shrimp, jerkbaits,and swimming mullet are all working well on the trout.
We are still picking up a few flounder when we are blindcasting Gulp baits for reds and trout. There have also been some reports of good striper catches in the Cape Fear River around Wilmington. I hope to get up there to do a little striper fishing over the next couple of weeks. There should also be some reds and specs to be caught along with the stripers.
I had Michael Brazda http://www.mjbproductions.com on the boat on 12/5/11 to do some filming of fishing in the lower Cape Fear. We had a good day catching reds, a few trout and flounder and he got some awesome footage. Michael is a professional film producer who loves to fish and produce fishing videos. He has worked on several projects on the Outer Banks and does a great job. Check out his video Oyster Bed Reds on http://vimeo.com/33379567
I have the new 19′ Carolina Skiff in action and it is working well. I can get three anglers on this boat and get to those shallowwater reds. I will also have a new 2012 17′ Ranger Banshee Extreme soon. Thanks for reading the report and I should have good one for the holidays. Check out the photos from the past few weeks.
Thanks,
Jeff Wolfe
Seahawk Inshore Fishing Charters
Carolina Beach Inshore Fishing Blog
910-619-9580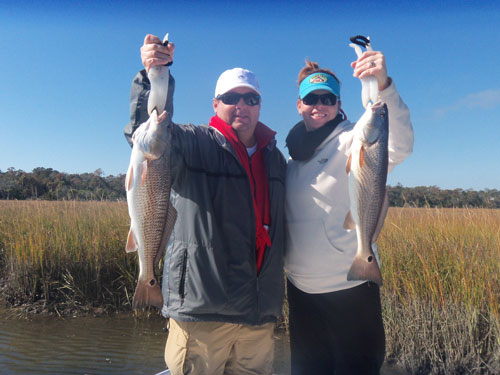 11/19/11 Bobby and Amy doubled up on reds fishing mud minnows on carolina rigs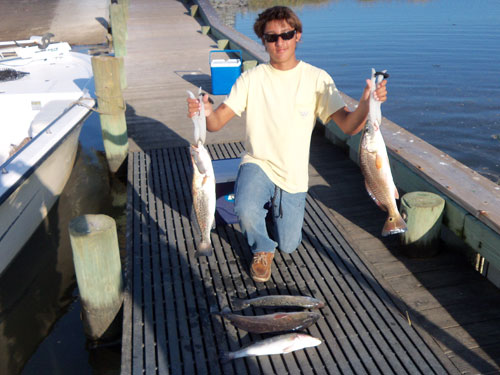 11/20/11 14 year old Weston was rewarded with a fishing trip for being a good kid with good grades. He had a good day sightcasting for redfish and picked up a few specs with one around 23″ and four pounds.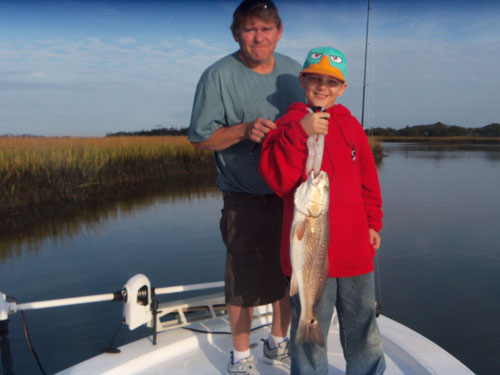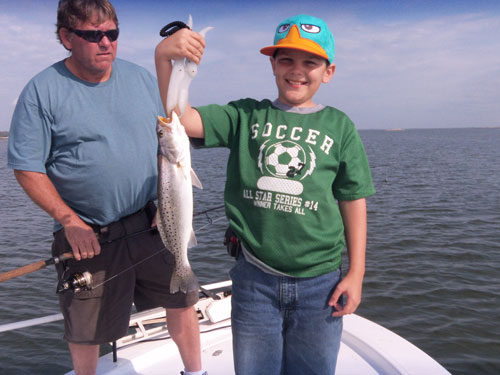 Chris, Ricky, and Colby fished with me two days with similiar results on both days ( Reds and Speckled Trout ). 11 year old Colby was one heck of a fisherman picking up some of his fish casting Gulp Alive Shrimp and DOA soft plastics.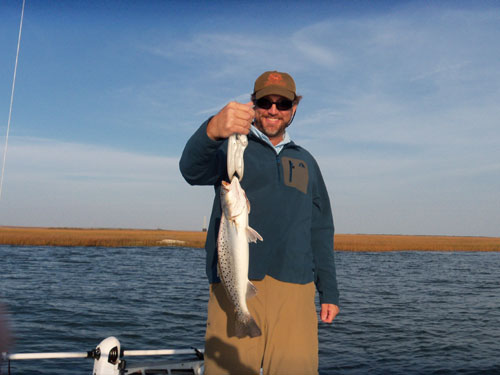 11/23/11 Dee also fished two days and caught good numbers of reds and speckled trout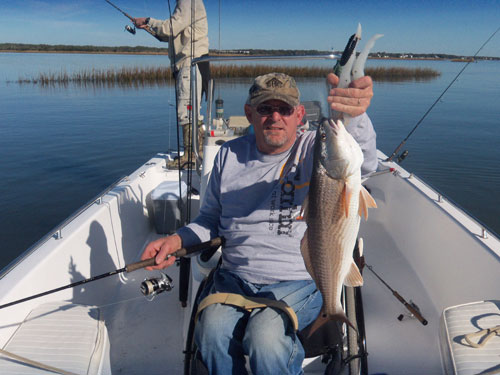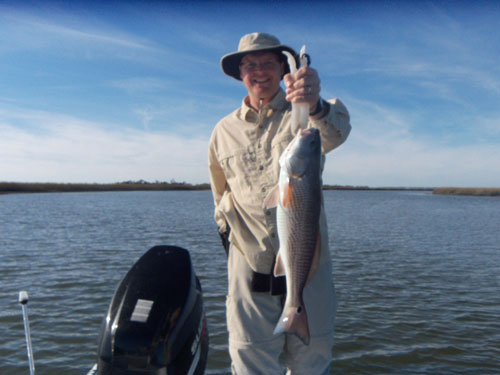 11/26/11 Avery and Jeremy had a good trip catching reds on a beautiful November day with light winds and highs in the 70's. Avery is confined to a wheelchair, but has not let that stop him from doing the thing he loves, fishing. So glad I could accomodate you Avery. You are such a inspiration and it was a honor to have you on my boat.

11/28/11 John had a good day on the reds and picked up a couple of nice trout and a flounder for his wife.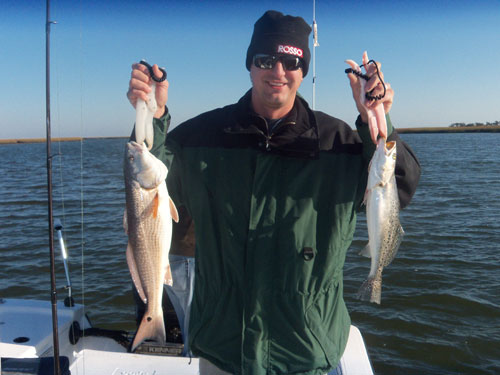 12/3/11 Jason with a red and spec he caught casting a DOA paddletail jig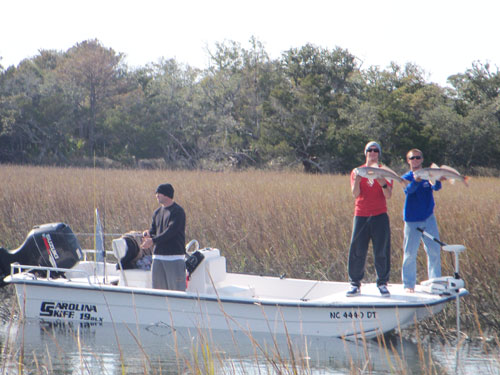 12/4/11 Matt and Christian doubled up on reds out of a school in the creeks. The new Carolina Skiff is rigged and ready for action, minus the Minn Kota Talon Shallow Water Anchor and poling platform I will be installing in the near future. This boat is working well on the flats and shallow creeks and can accomodate three anglers and myself.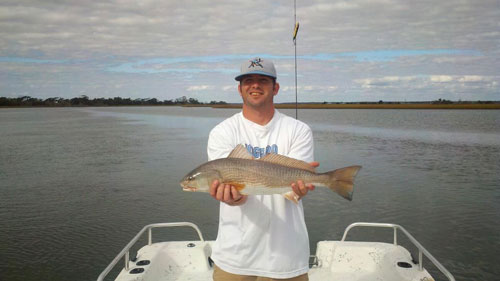 Tommy with a nice red he picked up fishing with Christian on the 19′ Carolina Skiff. I had to think twice about posting this pic with all of that Hoggard stuff on. Tommy is is the assistant baseball coach at Hoggard highschool.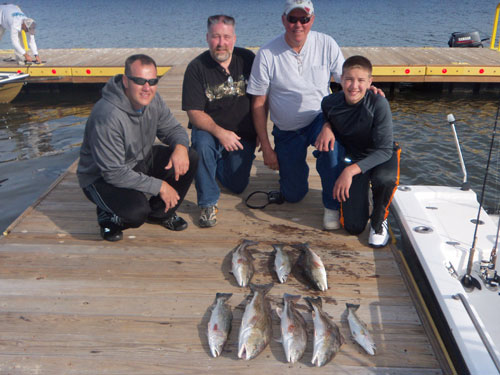 12/6/11 Dave, Ed, Rick, and Michael had a great day with the reds and also picked up three nice speckled trout casting DOA soft plastics and Gulp Alive Shrimp.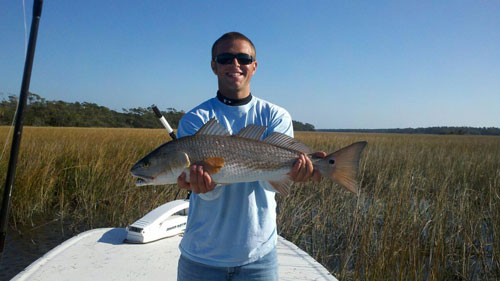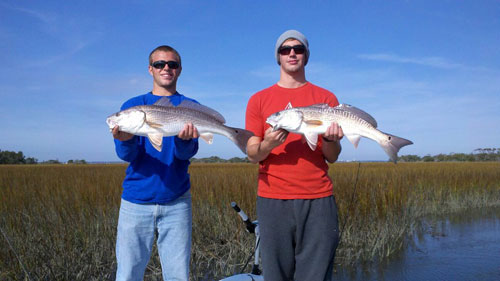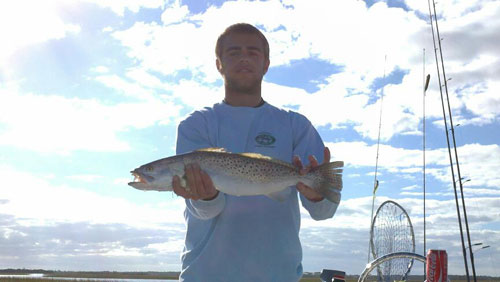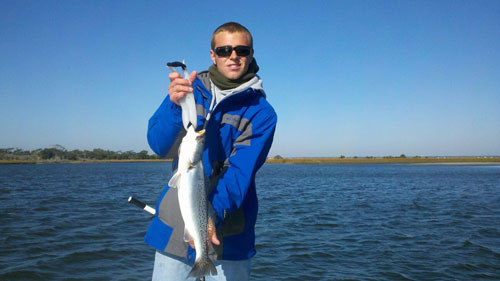 12/4/11 Christian with a overslot red and a nice 21″ and 23″ spec he caught fishing DOA fluketail jerkbaits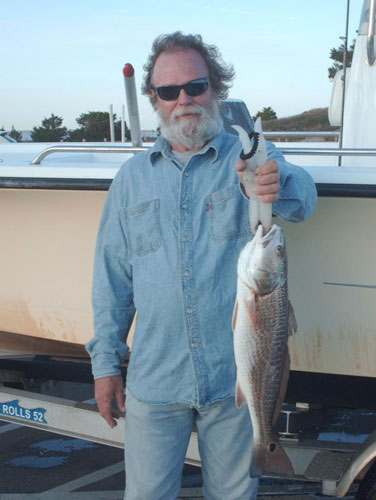 My good ole friend David Byerly jumped on the Kenner for a couple of hours after a trip and picked up a couple of reds and trout. We had a good time reminicing about the good times we had growing up fishing and surfing on Carolina Beach. David is living and working in PA. and does not get to saltwater fish much.