The inshore and backwater fishing is heating up and should be getting better as we head into the beginning of the summer fishing season.  We have had some tough days mixed in with lots of good days recently. Hopefully the inshore fishing will become more consistent with the flounder and sheephead starting to show in the inshore and backwaters.  We have caught reds, speckled trout, and black drum into the spring and it will be nice to have a few more options.  June is typically one of the best months of the year and I am looking forward to the summer fishing season to get into full swing.
We are still catching decent numbers of redfish on topwater plugs, DOA soft plastics, Gulp baits.  We are also catching reds using the simple methods of fishing live minnows and shrimp on carolina rigs and float rigs.  Most of the reds have been lower to under-slot fish but we have got on to some larger reds in the upper to over-slot range.  There are some large schools of upper and over-slot reds on the flats and the sight fishing has been good when conditions are right.  When sightfishing for reds we have been throwing topwater plugs, DOA soft plastics, and Gulp baits and for finicky schooling reds, live mud minnows pinned to jigheads.  Redfish grow quick and we should have a good summer fishing for redfish.  We are also picking up a few flounder and speckled trout while fishing for reds.
The sheephead are starting to show and putting a few of these tasty fish in the cooler is always a possibility in the summer months.  We are catching sheephead holding close to pilings and rockpiles using fiddler crabs on carolina rigs.  We are also picking up a few black drum while fishing for sheephead.
The flounder have been slow to show and the flounder fishing should be getting better as we head into mid June.  The peanut pogies have shown up thick in the Cape Fear River and good numbers of flounder should not be far behind.  Fishing these baits on points, docks and around creek mouths will put some good sized flatfish in the cooler. Flounder also love Gulp Baits and we have good days on flounder in the summer by dropping the trolling motor, covering ground, and throwing Gulp Shrimp and Jerkbaits.
We have caught a few speckled trout on topwater plugs, mirrolures, and soft plastics.  We have also caught a few tripletails around crab pot bouys and catching one of these mysterious fish is always a possibility in the summer months. There are also lots of bluefish showing up on the inshore waters.
I recently added a new 2012 21′ Key West Skiff powered by a 2012 Yamaha 115 Four Stroke outboard to the Seahawk Inshore fleet.  This boat will be used for my Waterman Seafood trips and I will also occasionally use it on my fishing charters where more than three people are involved.  This boat has a ton of room and is equipped with a MinnKota Talon and trolling motor.  I am looking forward to getting this boat fully rigged and into action this week.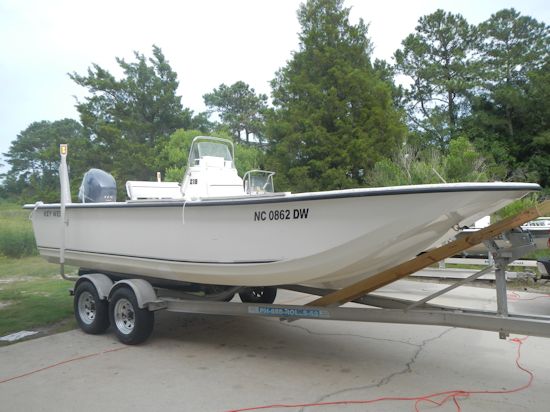 Thanks for reading the report and check out a few of the photos from my recent fishing trips.
Thanks,
Jeff Wolfe
Seahawk Inshore Fishing Charters
North Carolina Inshore Fishing Blog
910-619-9580
Seahawk Inshore Fishing Charters- Making inshore and backwater fishing fun and simple for kids and for anglers of all skill levels.