The inshore and backwater winter fishing is still going strong and producing catches of redfish, speckled trout, and black drum.  The speckled trout bite has been good on the warmer days with redfish and black drum biting in almost any conditions as long as the tides are right.  Most of the reds and black drum have been caught using fresh frozen shrimp. We're also catching reds on Gulp Baits, DOA paddletails and live mud minnows.  The speckled trout are hitting Gulp Jerk Shads and DOA jerk baits.  Catching reds, black drum, and speckled trout has provided us with a lot of action and mixed bag of fish to take home for the dinner table.
Hopefully the weather will cooperate and we will continue to experience this awesome inshore action through February.  Thanks for reading the report and I should have a good one for the next couple of weeks.  Check out the photos from my recent trips.
Thanks,
Jeff Wolfe
Seahawk Inshore Fishing Charters
North Carolina Inshore Fishing Blog
910-619-9580

1/14/13  Meryle, a fishing guide from Canada drove down  to visit the Cape Fear area and was rewarded with beautiful weather and a awesome day of redfishing.  We also caught a few black drum.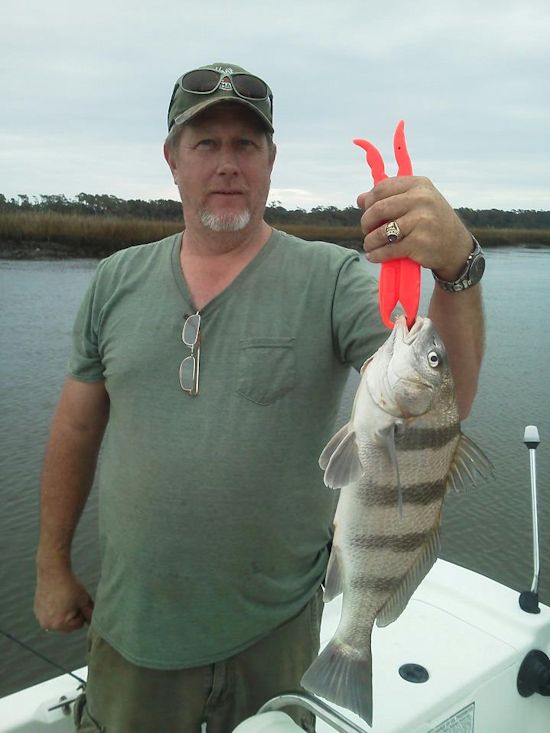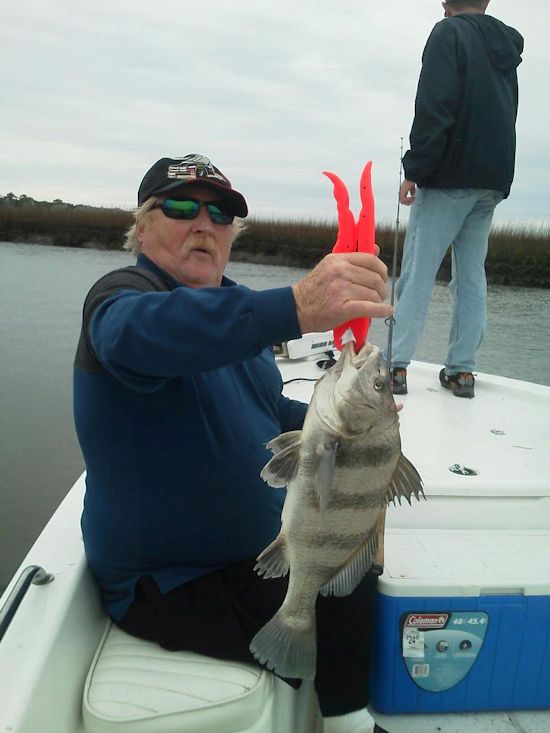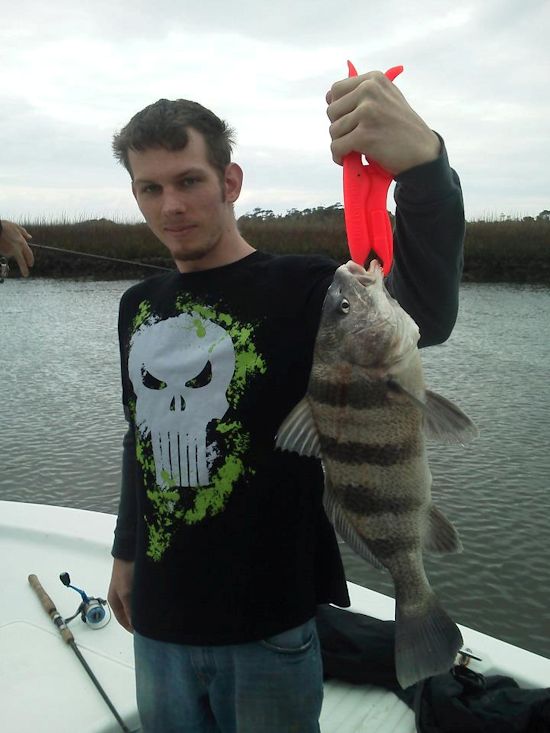 1/15/13  Tony, Red, and Jeremy with a few of the reds and black drum they caught fishing shrimp on Carolina rigs.  Another great winter day here on the lower Cape Fear with good numbers of black drum and redfish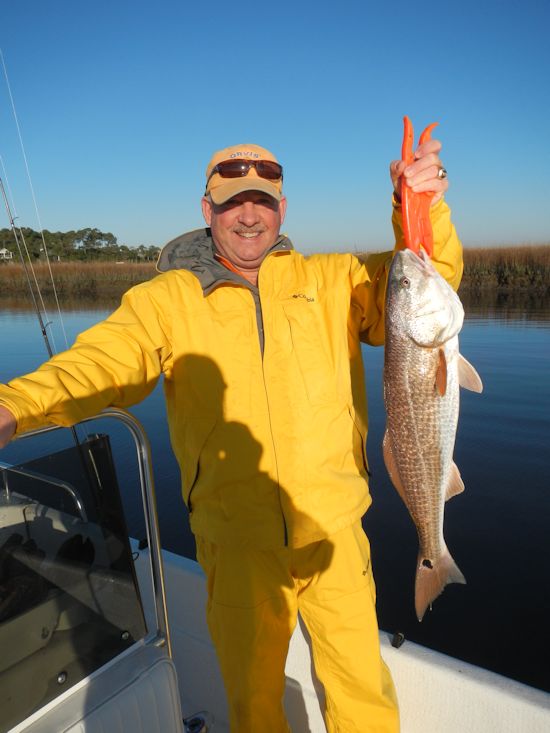 1/18/13  Mike from Burlington, NC with a over-slot redfish.  He had a good day with some upper-slot reds and lots of lower and under-slot redfish. We mixed it up with Gulp Shrimp and dead shrimp pinned to jigheads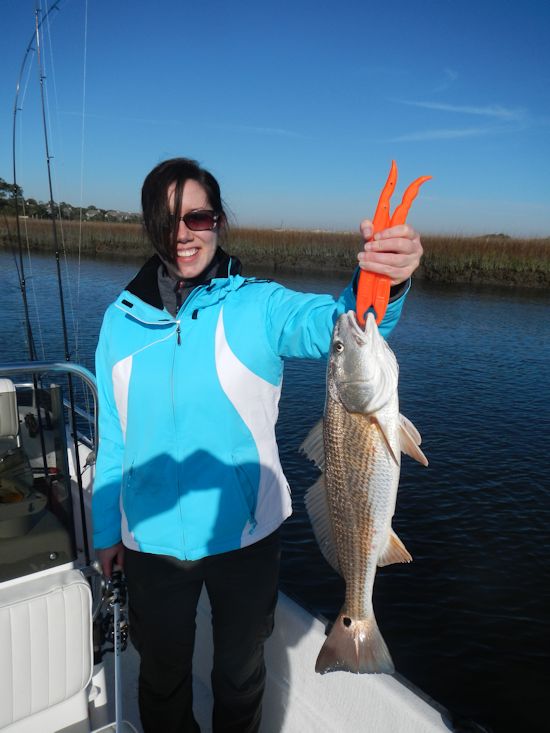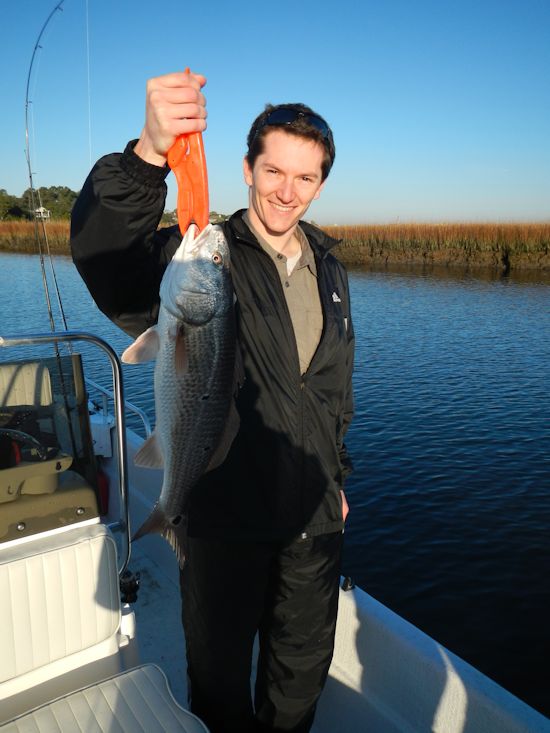 1/20/13  Bridgit and Lane with a couple of nice reds they caught fishing shrimp on jigheads.  One of the many good days we have had on redfish recently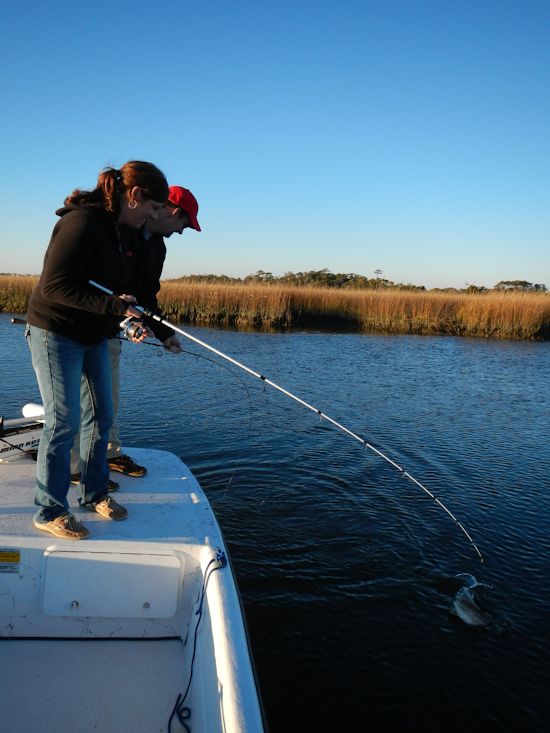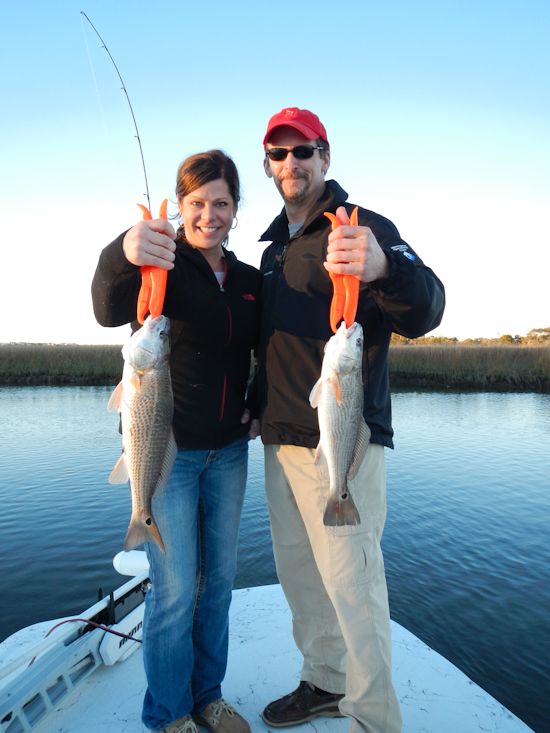 1/21/13  Jason and Jennifer doubled up on reds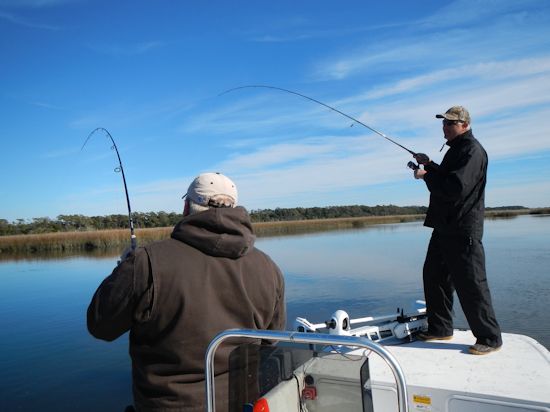 1/22/13  John and Ty doubled up casting Gulp Shrimp to a school of lower and under-slot reds.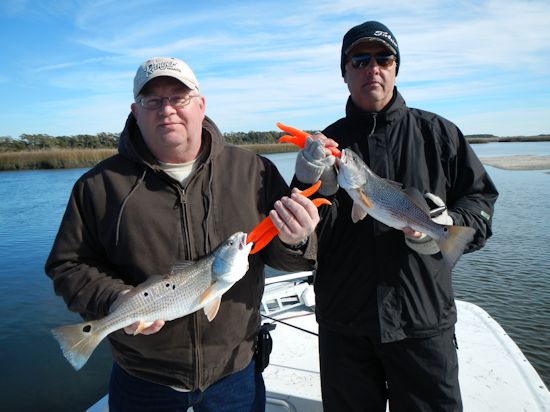 John and Ty with doubled up on reds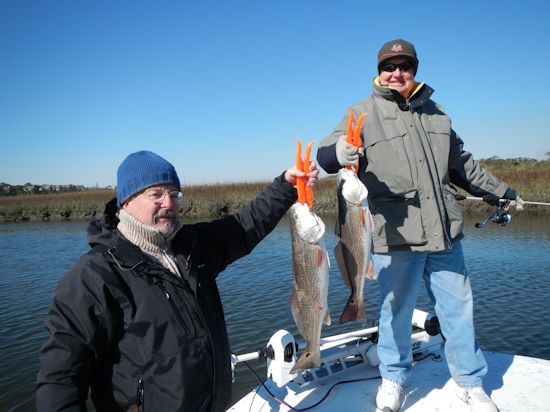 1/23/13  Don and Mark with a another double on lower-slot reds.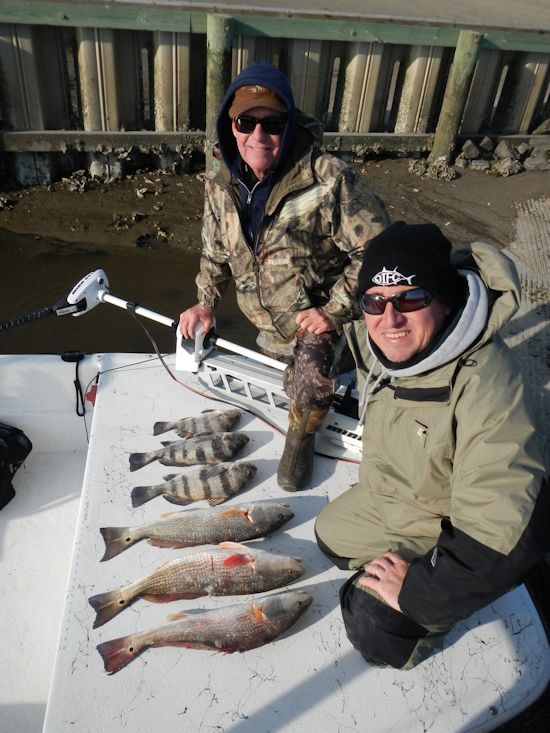 1/24/13  Kevin and Ed had a great day with big numbers of redfish and a few black drum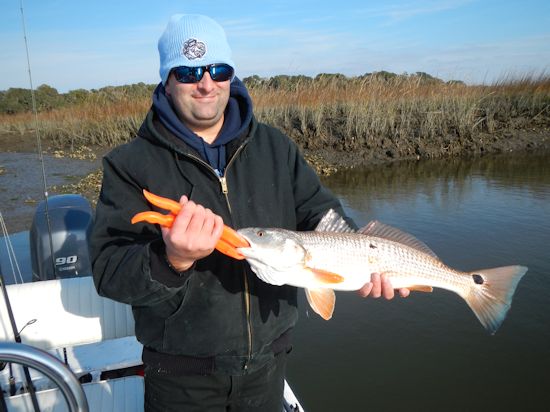 Shane with a nice red he caught fishing shrimp on a carolina rig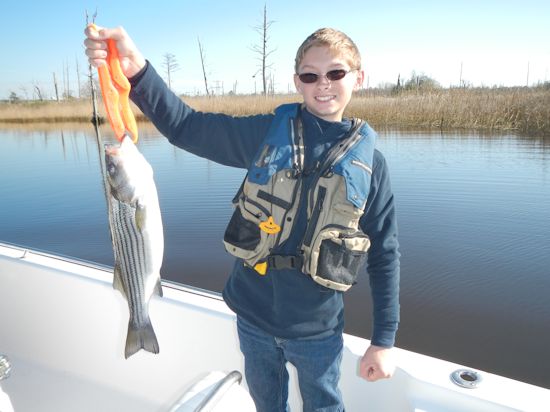 1/26/13  Coty with a nice striper he caught trolling a diving plug in the Cape Fear River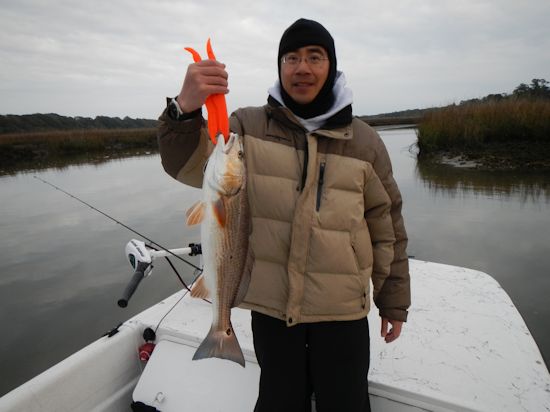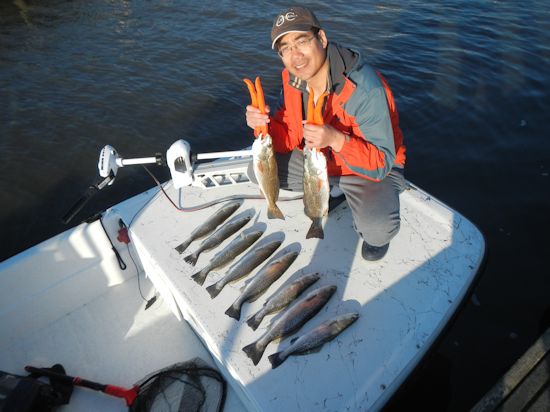 David drove down from Maryland and fished with me on 1/28 and 1/29.  We caught good numbers of redfish and black drum on the first day and caught reds and our limit of nice specs on the second day.  He took home around thirty fish for the dinner table.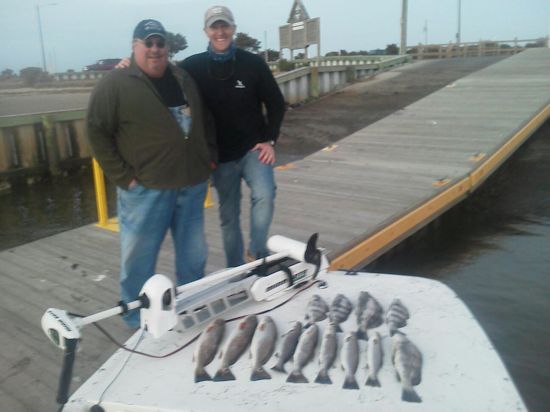 1/30/13  Callum and George with a mixed bag of specs, reds, and black drum.  Reds and Black drum caught on shrimp and the specs were caught on Gulp Jerk Shads

Christian thinks he's bad with a couple of the nice black drum we've been catching here lately on the lower Cape Fear