We are experiencing some awesome inshore fishing here in the Cape Fear area.  The weather has been really good and has provided us with some good fishing opportunities for the past few weeks. Lots of redfish and black drum along with a few speckled trout, striped bass, and an occasional flounder.  Looks like it is going to be a good winter and hopefully the weather will cooperate and we'll get some good fishing in over the next few weeks.
The redfish bite has been good to incredible on the lower and under-slot fish.  I have seen some larger reds recently in the middle to upper-slot range, so hopefully these fish are starting to show and get into their winter patterns.  There are some schools on the flats and the sightfishing should be good when the winds are light.  There are also some schools roaming around some of the area docks.  Soft plastics like Gulp Shrimp, Swimming Mullet and DOA paddletails are working well along with shrimp and mud minnows on carolina rigs.
We are catching some nice sized black drum fishing dead shrimp in the same areas we are catching reds.  These fish are really strong, a blast to catch on light tackle, no limits, and great to eat.  There has been some really good action when finding reds and black drum mixed together.  There have been a lot of black drum around this fall and hopefully these guys will hang around this winter.
The speckled trout fishing is still strong in some areas but has slowed for me in the areas I have been fishing recently.  The trout are hitting soft plastic paddletails and fluketails, mirrolures, Gulp Shrimp and live shrimp.  There are some stripers, reds, and specs being caught in the upper Cape Fear River around Wilmington and we're still picking up a keeper flounder here and there.
I have recently repowered my 2011 19′ Carolina Skiff with a 2012 90hp Yamaha Four-Stroke.  This is a great boat to take three anglers and myself to get to those shallow water reds and get us there in a hurry.  I am looking forward to running most of my winter trips on this boat.
Thanks for reading the report and I'll try to keep it updated every couple of weeks over the winter months.  Check out some the photos from my recent trips.
Check out the recent Guide Times article (Cape Fear River Stripers Pipe to Rock) in the winter addition of the Fisherman's Post.  I had editor/publisher Gary Hurley and writer Max Gaspeny on the Kenner Bay Boat for a few hours of striper fishing in the Cape Fear River around Wilmington.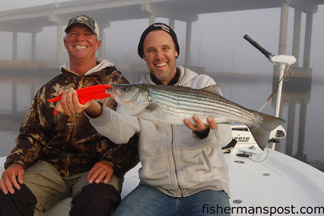 Thanks,
Jeff Wolfe
Seahawk Inshore Fishing Charters
North Carolina Inshore Fishing Blog
910-619-9580