The inshore and backwater fishing has been a little more consistent in the Cape Fear area and should be getting better over the next couple of weeks. There are lots of redfish action, along with a few speckled trout and flounder. There is also a excellent whiting bite going on in the lower Cape Fear river along the edge of the ship channel. Look for more of these species to show up with some larger flounder and trout. Most of the inshore species should be here and the fishing in full swing by mid to late April.
The redfish bite has been fair to excellent depending on tides and weather conditions. Most of the action has ocurred on the lower stages of the tides using live mud minnows and shrimp on carolina rigs. For those that like using artificials were are catching scattered reds in the creeks and finding large schools on the flats on the calmer days. Gulp baits and DOA paddletails are producing most of the action. The topwater redfish bite is starting to pick up and will be getting better over the next couple of weeks.
Good numbers of small speckled trout and a few larger specks are feeding in the same areas and hitting the same soft baits and topwater plugs. Looks like we may have a good spring trout season with all of the small fish that were here in the fall.
Deeper holes off the lower Cape Fear are producing some flounder action. Look for the flounder bite to get more consistent with some larger fish moving in. Live minnows and Gulp Baits are working on the flatfish. Flounder love Gulp Baits and most of the flounder have been caught while throwing these baits in the deeper holes.
The whiting bite has been excellent in the lower Cape Fear river. Fisherman are filling up coolers and 50 to 100 fish have been the norm. Some of these tasty fish have been the larger ones weighing one to two pounds. Whiting hit hard and a lot of fun to catch. Shrimp on two hook bottom rigs will do the trick on the whiting. We are also picking up a few small black and an occasional larger one using shrimp on carolina rigs and two hook bottom rigs. Catching whiting and black drum using these tactics are great for entertaining children and putting some good eating fish in the cooler.
Thanks for reading the report and I should have a good one for the next couple of weeks. Check out a few of the photos from some recent trips.
Thanks,
Jeff Wolfe
Seahawk Inshore Fishing Charters
Carolina Beach Inshore Fishing Blog
910-619-9580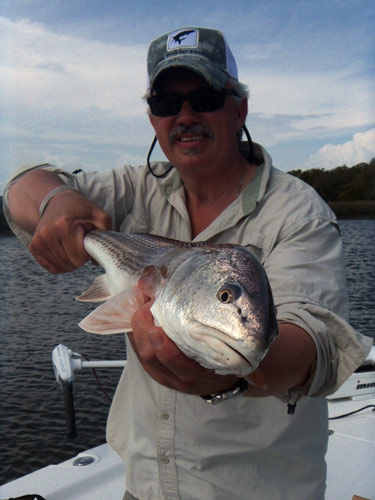 3/26/12 Dave, a fishing guide from Canada that also works in the movie industry spent about a month in the Wilmington area and fell in love with redfishing. He fished with me four times and had some awesome days sightfishing for reds. He turned me on to a great bait that works good on redfish, the Jackall I-Shad, a soft bait from Japan.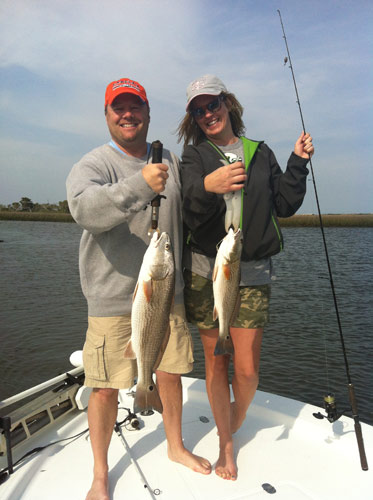 3/28/12 Derrick and Angel had a good trip catching reds fishing live mud minnows on carolina rigs.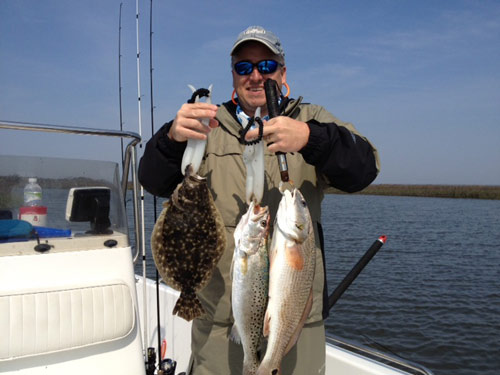 3/29/12 Kevin with the result of a inshore slam. Caught on Gulp Baits and Jackall I-Shad soft baits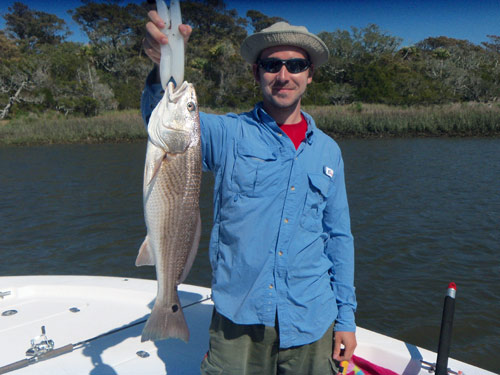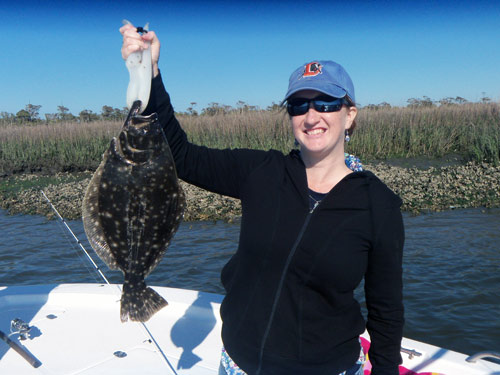 3/31/12 Adam and Amber had a good trip in the backwaters throwing Gulp baits for reds and flounder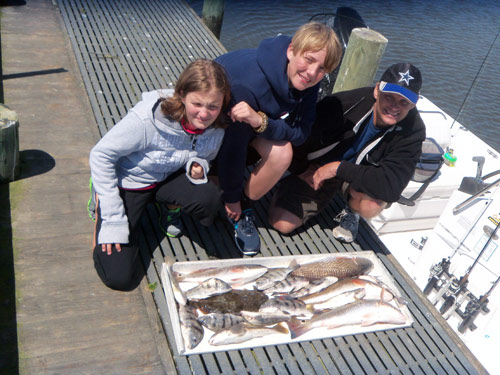 4/1/12 Raleigh, Zach, and Randy mixed it up a bit with a catch of redfish, flounder, black drum, and whiting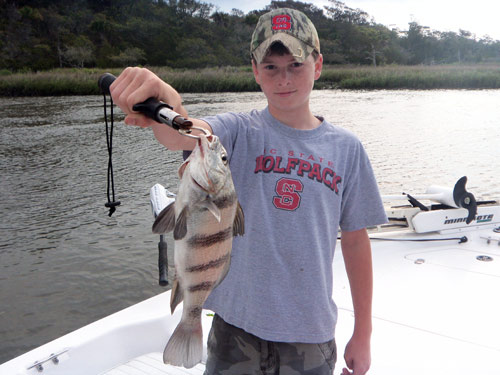 4/2/12 Jared with a decent black drum he caught fishing shrimp on a carolina rig

4/2/12 Kyle and Jared with the result of a double hook-up of upper slot reds fishing mud minnows on carolina rigs. A great father and son fishing trip on the lower Cape Fear.

4/3/12 John and Ryan with another father and son double hook-up of redfish. Fishing mud minnows on carolina rigs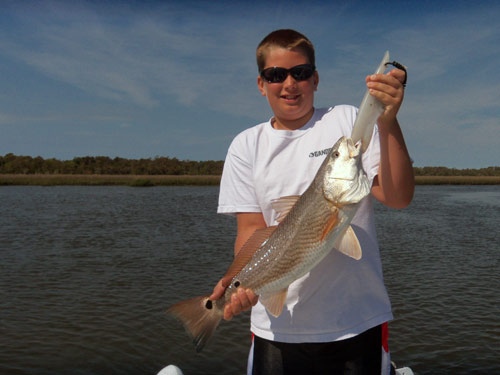 4/3/12 Ryan with a another nice red. Ryan and Jared from the photos above a great young fisherman and also do really well throwing artificials in the backwaters. These kind of trips are very rewarding for me.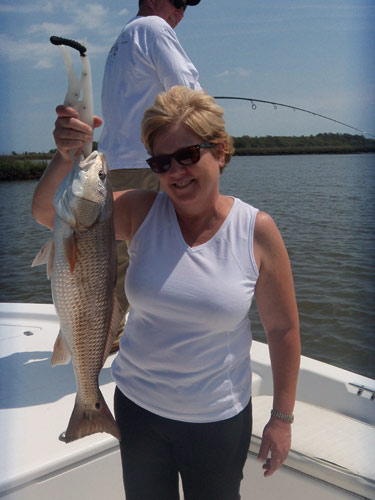 4/4/12 Laurie with a nice red while hubby Robert is hooked up with another.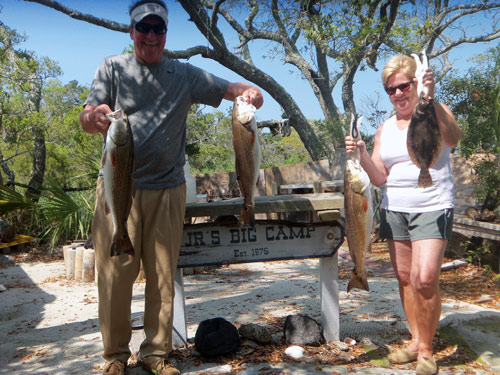 4/4/12 Robert and Laurie had a good husband and wife trip fishing the creeks of the lower Cape Fear. This was a excellent day fishing for reds and a bonus flounder. We made a pit stop at Jr's Camp on the way out and took this cool photo. Heck I may even treat them with a anniversary gift certificate at this fine five star camp on Bluff Island over looking scenic Deep Creek. Just don't forget the bug spray.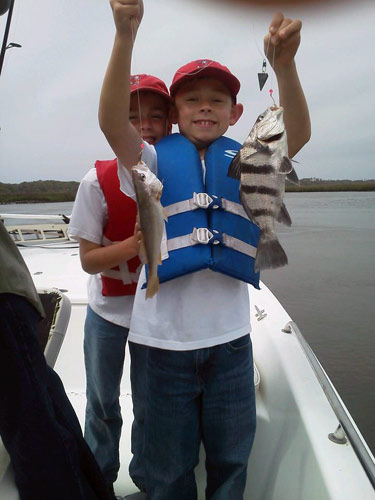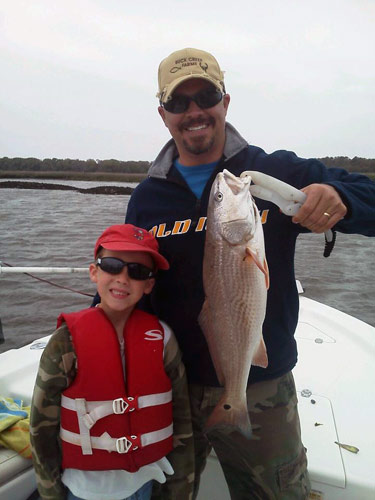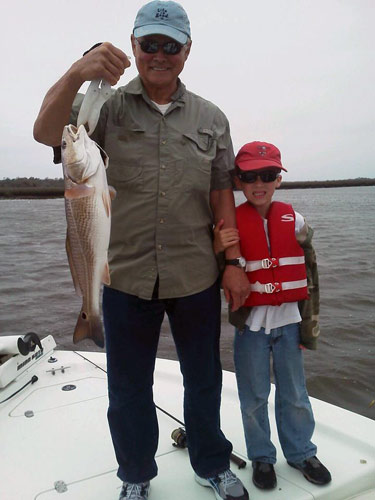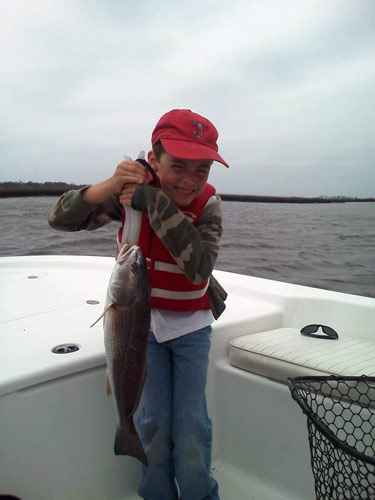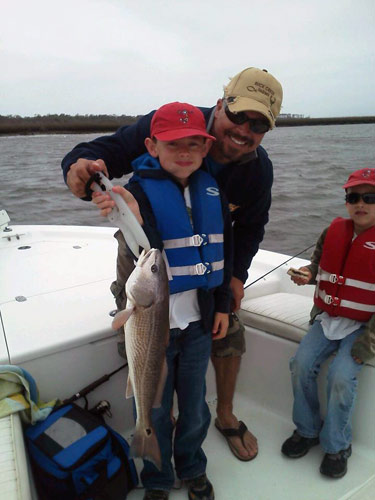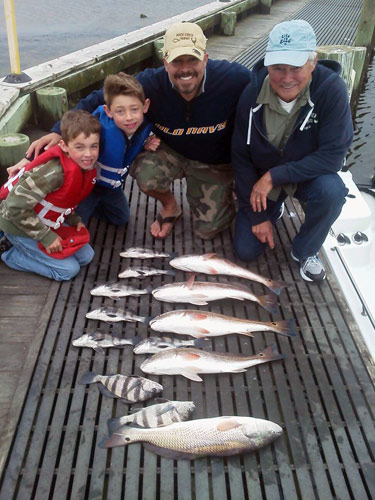 Another great family fishing trip with Hugo, Dick, Sam, and Mike. These 9 and 7 yr old youngsters did a great job fishing with their Dad and Grandfather in the creeks of the lower Cape Fear. We had a blast catching reds and black drum on shrimp and mud minnows.
Check out the most recent video I have added to the video library, Cape Fear Tripletail Fishing. Can't wait for these fish to show up.
Special thanks to Mark and Christine at 601 Media (www.601media.com) for the great job they do on the website and editing most of my videos.