Man, what great spring weather we are experiencing here in the Cape Fear region. The inshore fishing has really picked up over the past week and look for it to get better with the arrival of a number of inshore species. Looks like flounder, sheephead, bluefish, tripletails, speckled trout and spanish mackerel will be early this year. The redfish and whiting are here in the best numbers we have seen since the fall.
The redfish bite has picked up in the backwaters of the lower Cape Fear and Masonboro Sound area. There are some large schools of reds roaming the flats and the sightfishing has been good when the winds are light. There are also smaller pods of reds in the creeks and around docks along the waterway. Double digit days on the reds have been common the past couple of weeks along with a few flounder and speckled trout. Gulp Shrimp, Swimming Mullet, and DOA paddletails are working well, along with shrimp and mud minnows pinned to jigheads or carolina rigs. The reds are already hitting topwater baits and look for the topwater bite to improve over the next couple of weeks.
The whiting are here in big numbers and filling up a cooler with these tasty fish is always a possibility in the early spring. It should be an early season for speckled trout and we are seeing some good signs for a good spring trout bite. The flounder are starting to show up in better numbers with more keeper fish in the mix. The sheephead fishing will also be turning on soon and hopefully we'll have a good spring black drum bite. The small and large bluefish, tripletails, and spanish makerel are not far behind.
Looks like it is going to be a great time to get on the water and experience some of the awesome inshore fishing we have in the Cape Fear area. I have some open dates for the spring and Easter breaks. Give me a call if you would like to get out there and do some inshore and backwater fishing. I can make it as simple as fishing in a farm pond for kids and inexperienced fishermen and fisherwomen. Thanks for reading the report and check out the photos from some recent trips.
Thanks,
Jeff Wolfe
Seahawk Inshore Fishing Charters
Carolina Beach Inshore Fishing Blog
910-619-9580

2/27/12 Avette and Filip had a good day in the backwaters with a inshore slam. We had a few reds, a nice trout, and a couple of flounder. All on Gulp Shrimp.

2/28/12 Dave, a fishing guide from Canada had a good day with the redfish. Caught with some smallmouth jigs he had that resemble mud minnows.

3/2/12 Robert and Dave doubled up sightfishing out of a large school on the flats.

3/2/12 Dave with a over slot red he caught sightfishing on the flats on a foggy March morning. Caught with a Gulp Swimming Mullet in the Smoke color.

3/512 Joe with a 33″ red he picked up on a blue crab chunk fishing around some dock pilings

3/10/12 Scott with a nice black drum he caught fishing shrimp on a carolina rig

3/10/12 Scott with a grand slam. He had a good day on the reds, a black drum, flounder, and a trout.

Dave fished with me again on 3/12/12 with his so Liam. We had a great day sightfishing to schools of reds on the flats.

3/15/12 Kevin and Rich with the result of a double hook-up. Another solid double digit day sightfishing on the flats.

Ricky and Shane had an incredible day of redfishing on 3/18/12. Sightfishing on the flats in the early morning and fishing the creeks during the afternoon.

3/20/12 John had a double inshore slam with a couple of keeper flounder, trout, and lots of redfish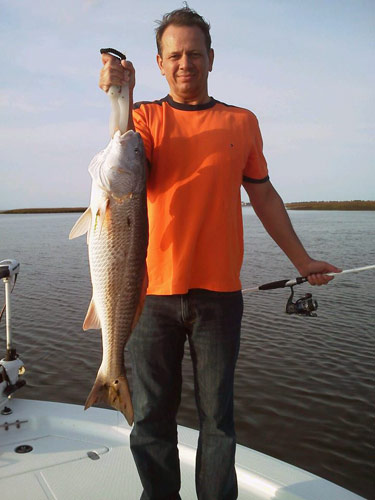 3/22/12 Bill with a 34″ red he caught casting a DOA paddletail jig.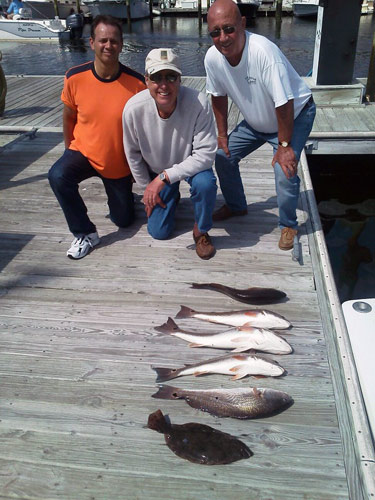 3/22/12 Pete, Tom, Bill, and Mike (not pictured ) had a good day on the reds fishing Gulp Shrimp, DOA soft plastics, and shrimp on carolina rigs.