We are still experiencing some awesome weather here in the Cape Fear area with lots of days in the upper 60's and water temps in the mid 50's. This has made for some comfortable days to be on the water fishing. There are lots of redfish around but getting them to bite has been difficult lately. We are still picking up a few fish and on most days we are catching double digit numbers. We are also picking up a few speckled trout, black drum, and an occasional flounder.
There are lots of schools of redfish on the flats, in the creeks, and around dock pilings. These schools range from 30 to 100 fish on the flats and smaller schools of 20 to 50 fish in the creeks and around the docks. The reds were biting good but have shut down this past week. Hopefully they will turn back on and start to feed again. We are still picking up a few fish even on the days when it is tough to get them to bite. The reds around the dock pilings and have been easier to catch using natural baits. Gulp shrimp, DOA paddle tails, are working well on the flats and in the creeks. Mud minnows, dead shrimp and crab chunks are working well around the docks.
We are picking up a few speckled trout in the creeks when casting Gulp Shrimp and DOA paddle tails and an occasional flounder. There are also a few black drum around the docks. Most of the black drum are small but we have picked up a couple of bigger ones in the 3to 4lb range. I have not been striped bass fishing but have heard some good reports from the upper Cape Fear River around Wilmington.
Thanks for reading the report and hopefully I'll have a better report for the next couple of weeks. Check out a few of the photos from some recent trips.
Thanks,
Jeff Wolfe
Seahawk Inshore Fishing Charters
North Carolina Inshore Fishing Blog
910-619-9580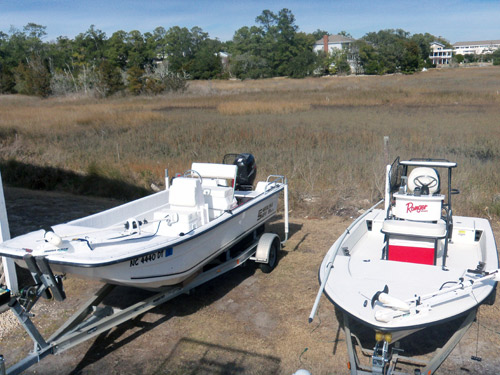 Two recent additions to the inshore, backwater, and flats fleet. The 2011 19′ Carolina Skiff and the 2012 17′ Ranger Banshee Extreme are rigged and ready for action.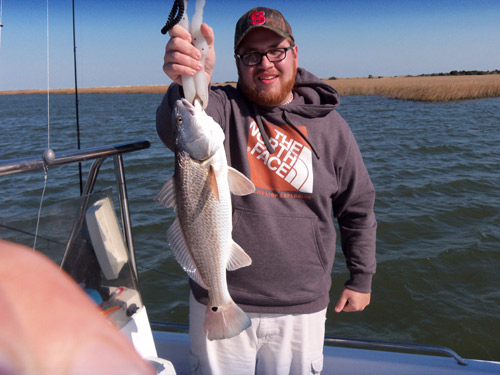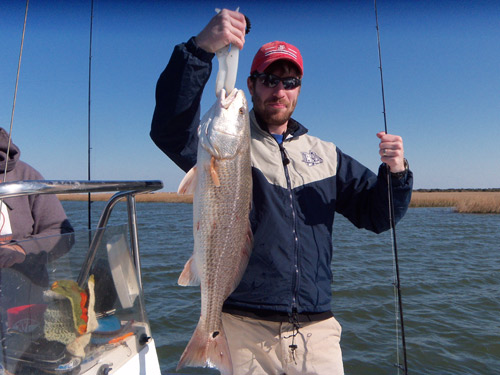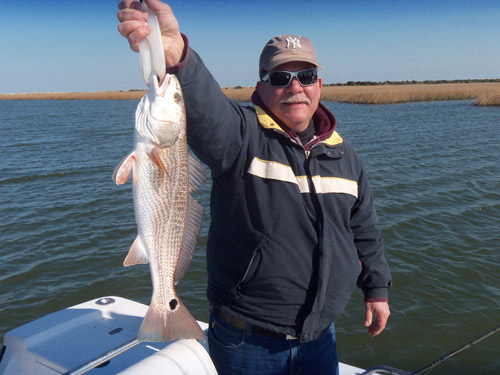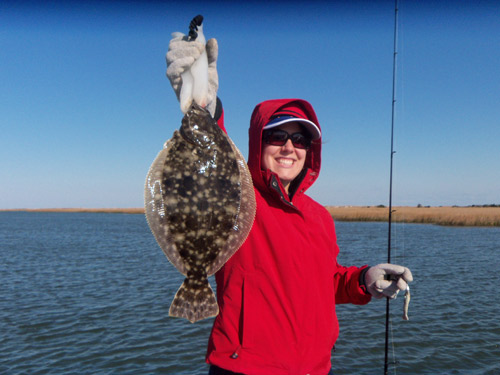 1/15/12 Jack, Peter, Danielle, and Dave had a good trip with 16 reds and a flounder. Caught fishing DOA paddletails and Gulp Shrimp.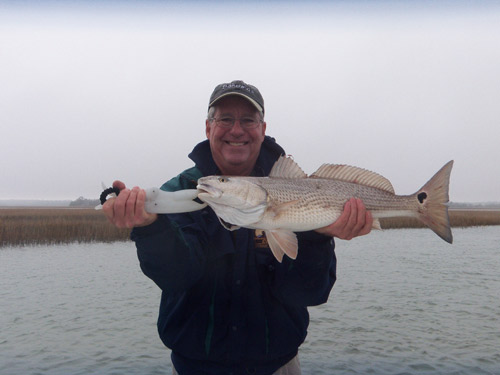 1/17/12 Ed with a nice red he caught casting Gulp Alive Shrimp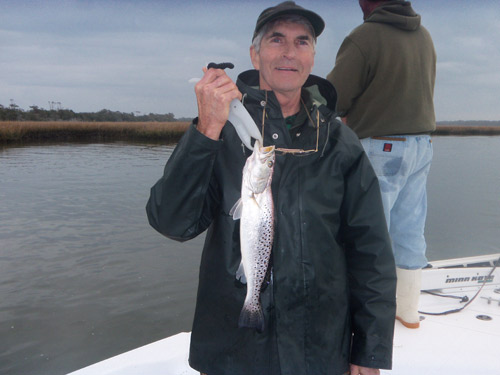 1/17/12 Allen with a spec he caught on a DOA paddletail jig. A good double digit day on the reds, one speckled trout and a four pound black drum.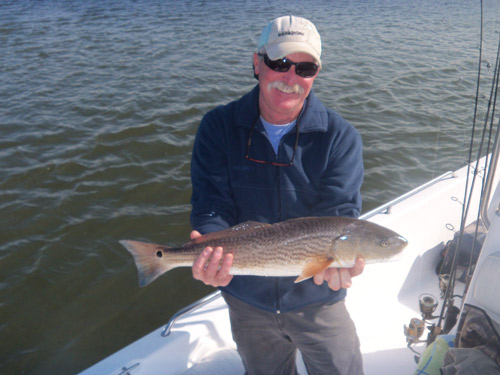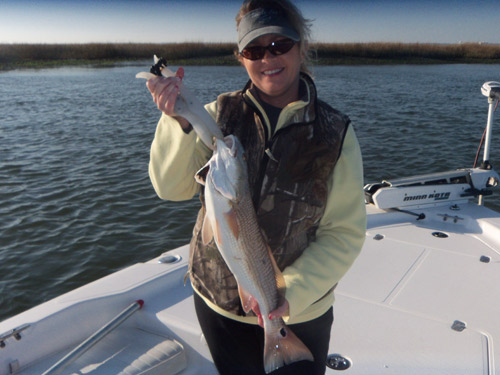 1/19/12 Grant and Mandy had a good day on the reds fishing DOA paddltails and Gulp Shrimp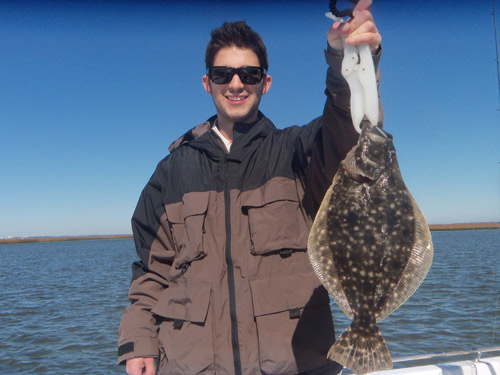 Alex with a nice flounder he picked up on 1/20/12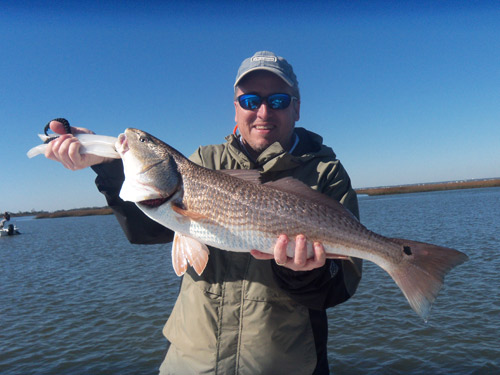 1/20/12 Kevin with a over-slot red he caught out of a nice school along the marsh edge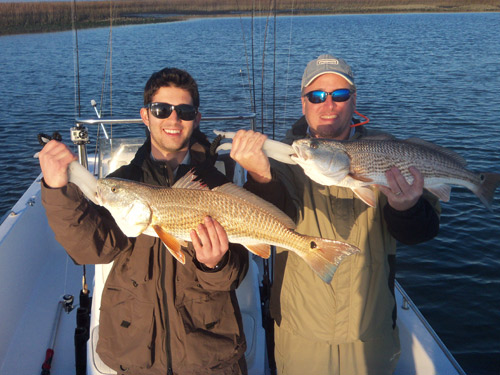 1/20/12 Kevin and Alex had a good father and son trip and capped it off with a double hook up of reds out of a school along a creek bank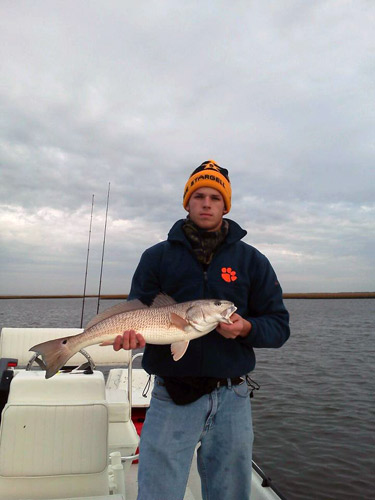 1/21/12 My son Christian continues to put his friends on fish with Garret picking up this nice red on a DOA paddletail jig. Christian should have his captains license soon and will be able to take some of my overflow.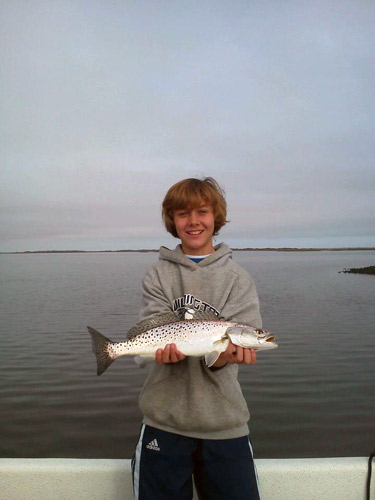 1/23/12 Stone with a nice spec he picked fishing with Christian on the newly rigged Carolina Skiff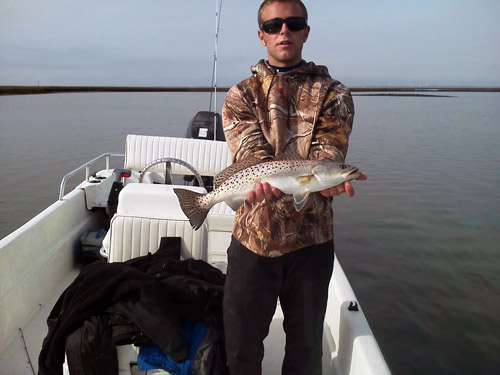 1/23/12 Christian with another nice spec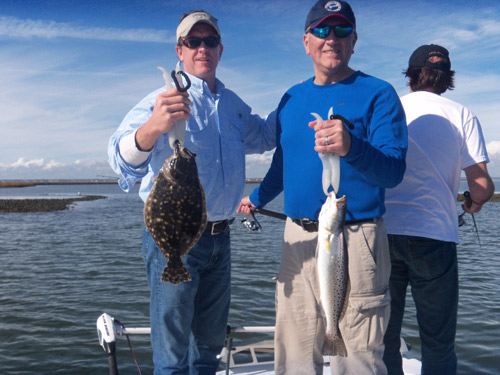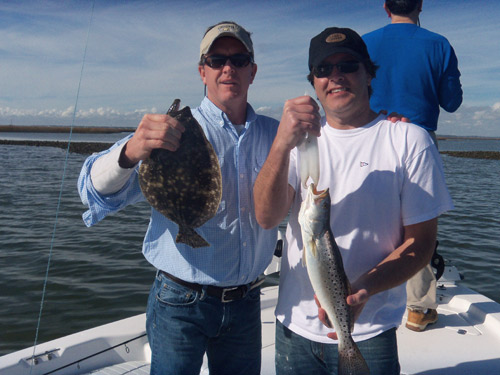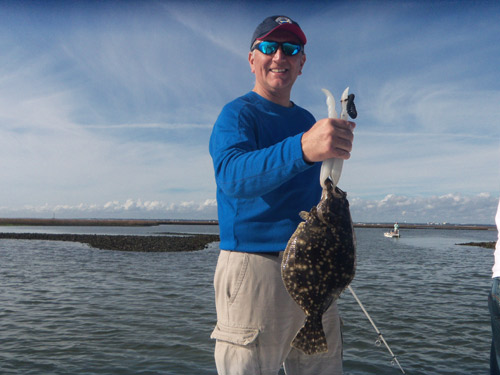 1/24/12 Rich, Fernando, and Peter went on a tear catching three keeper flounder and three keeper trout in about thirty minutes. They also had a good day on the reds. Notice the short sleeves, a beautiful day in late January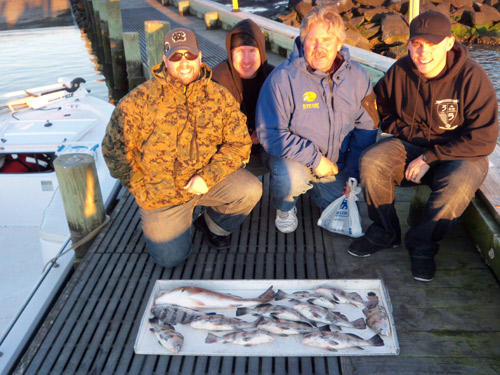 1/29/12 A tough day on the reds for Pat, Cory, Travis, and Roy . We did manage a couple of reds and about twelve tasty black drum for the frying pan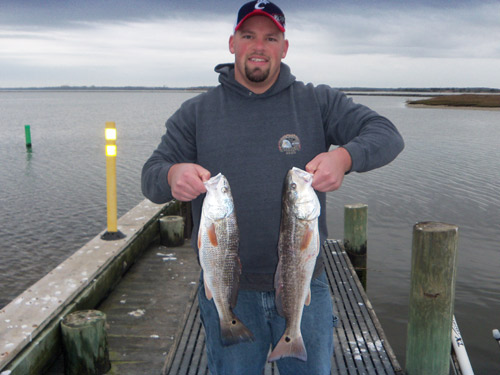 2/4/12 John with a couple of the reds he caught fishing dead shrimp on a carolina rig. We also picked up a few black drum.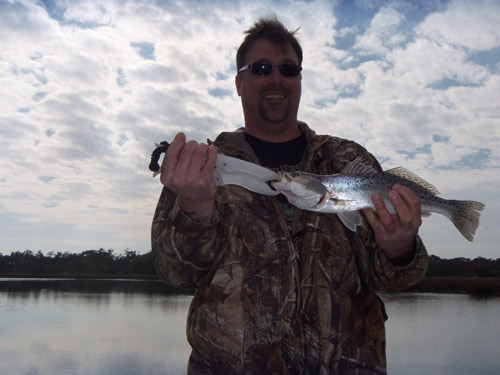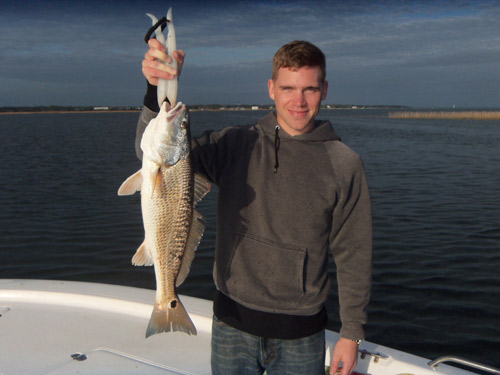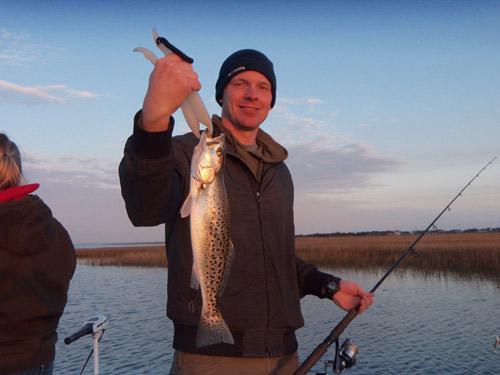 2/5/12 Steve, Allen, and James had a good trip with around ten specs (only three keepers) and a couple of reds. One of the tough days where we saw a lot of reds but could not get them to bite.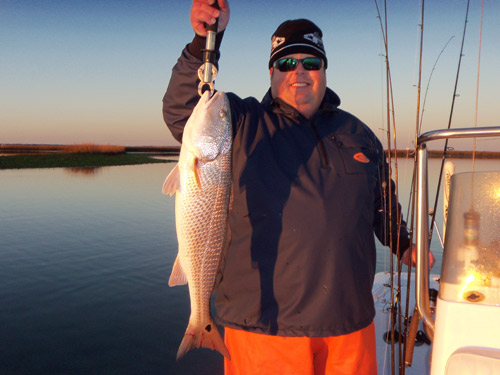 1/31/12 This was a slick calm day where we saw several big schools of reds on the flats but they would not eat. Paul did pick up this over-slot fish on his first cast into a school. He said it was still an amazing sight to see that many fish in less than a foot of water.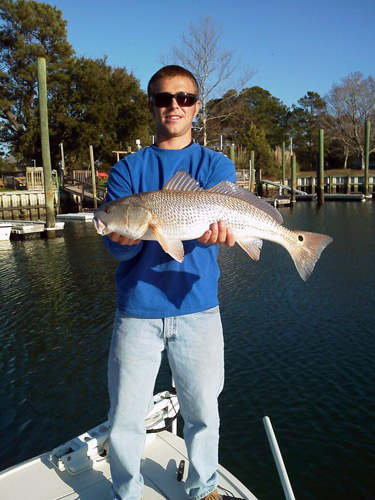 Christian with a red he pulled out of some dock pilings fishing dead shrimp.