February turned out to be a great month to get on the water to do some inshore fishing in the Cape Fear area. The inshore fishing was not that great but the mild temps have made up for the lack of fish. Spring is right around the corner and the fishing should get better has we head into March. The water will start to warm making the inshore species more active and trigger them to feed.
There are still lots of redfish around with lockjaw and also some around that are willing to bite. Knowing when, where, and what baits to use have been key lately to get the reds to bite. Most of the reds have been caught by dropping the trolling motor and quietly covering ground and casting to where schools of reds have been roaming the banks. Scented Gulp Shrimp and Swimming Mullet have worked along with DOA paddletails coated with Pro Cure Mullet Scent. Shrimp, crab chunks, and live mud minnows have also worked well, especially on the schools bunched up around the docks.
We are also picking up a stray speckled trout and flounder while throwing artificials for the reds. There are also some stripers being caught in the Cape Fear River around Wilmington. The whiting are just off the beach in the mouth of the Cape Fear River and will be soon making their move to into the river. Catching good numbers of these tasty fish is always a possibility as we get into March and April.
Looking forward to the spring fishing. It is always great getting out on the water with my repeat customers, and meeting and making some new friends. Thanks for reading the report and check out a few of the photos from some recent trips.
Thanks,
Jeff Wolfe
Seahawk Inshore Fishing Charters
Carolina Beach Inshore Fishing Blog
910-619-9580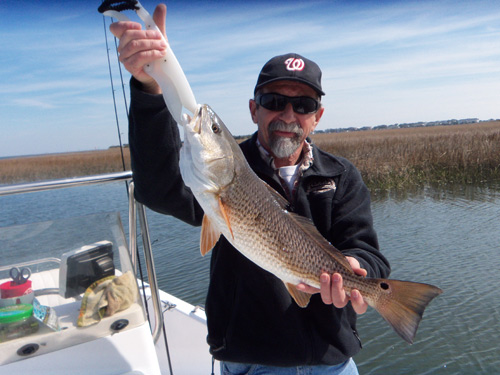 2/15/12 Henry with a nice red that he caught casting a DOA paddletail jig.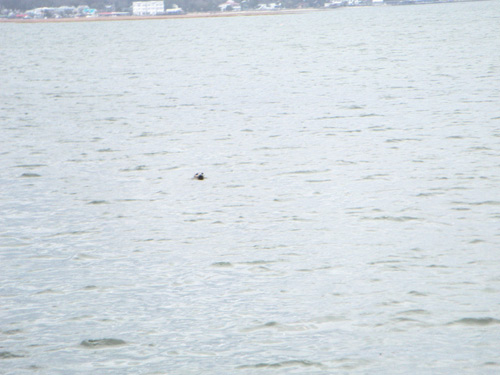 2/15/12 A rare sight in N.C., a seal that was very curious of our presence and kept poking his head up and checking us out.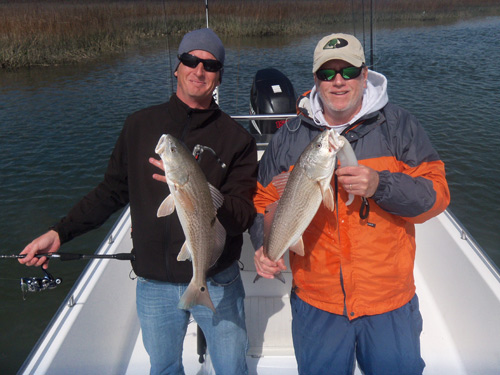 2/16/12 Josh and Herb had a good trip and doubled up out of a school that was roaming a creek bank. These fish were caught on DOA paddletails soaked in Pro Cure Mullet Scent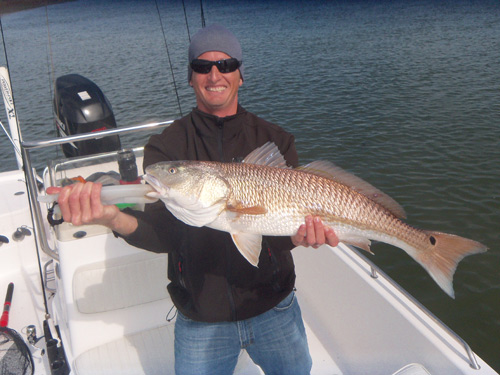 2/16/12 Josh with the leader of the pack. A stud of a redfish measuring 30 + inches.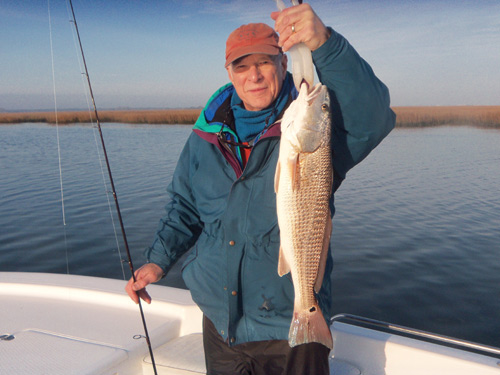 2/17/12 Seth with a red he caught out of a school in the creeks. One of those tough days where we saw a lot of fish but could not get then to bite.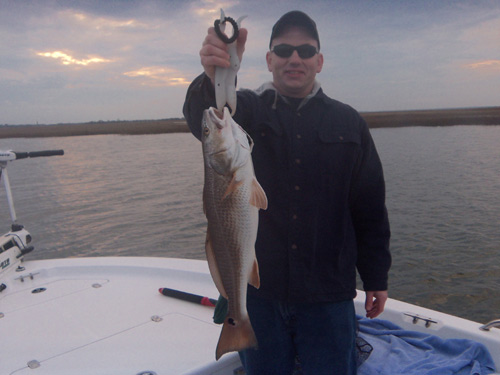 2/18/12 Becky and Mike had a good trip casting DOA paddletails, Gulp Alive Shrimp, and Gulp Swimming Mullet.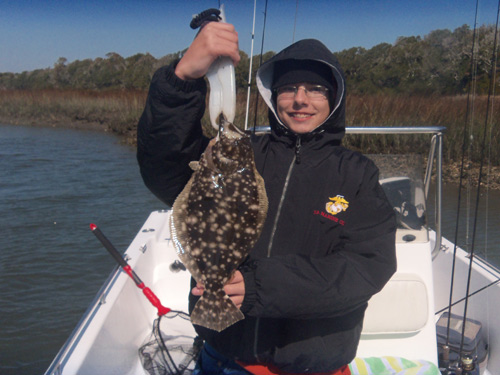 2/20/12 Joel with a flounder he caught casting a Gulp Shrimp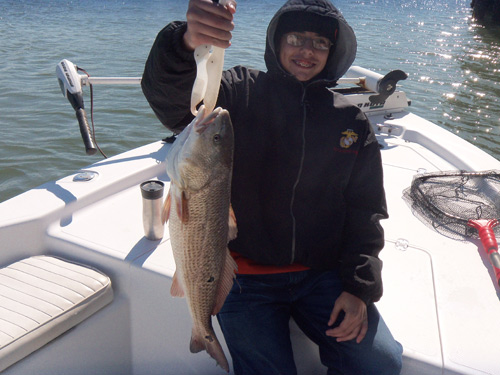 2/20/12 Joel with a over-slot red he caught fishing a chunk of blue crab on a carolina rig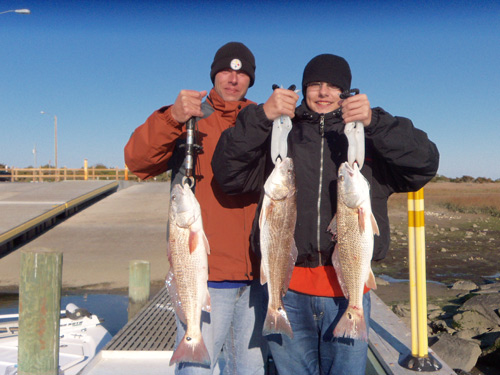 2/20/12 Mike and Joel had a good father and son fishing trip in the backwaters of the lower Cape Fear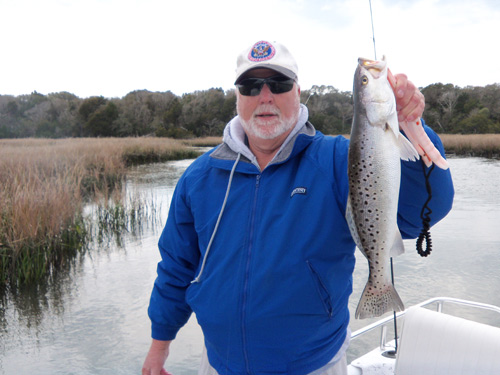 2/21/12 Joe with a nice spec that fell for a Gulp Swimming Mullet in the creeks of the lower Cape Fear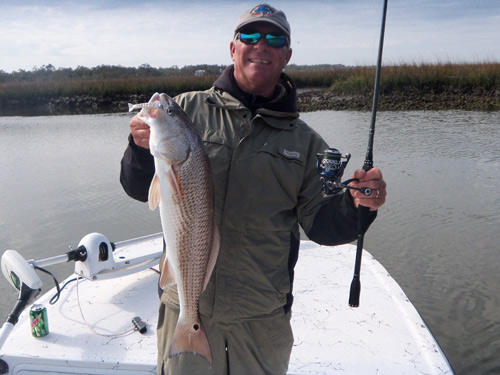 2/21/12 I got to make a few cast fishing with Joe and picked up this 26 3/4 inch red fishing some of Pure Fishings great products, Pflueger, Abu Garcia, and Berkley Gulp. This fish was caught on one of my new setups that is going to be great casting artificials. The Pflueger Patriach and the Abu Garcia Villian 7′1″ spinning outfit that together weigh around 10 ounces. We were fishing out of the new 19′ Carolina Skiff in the creeks of the lower Cape Fear.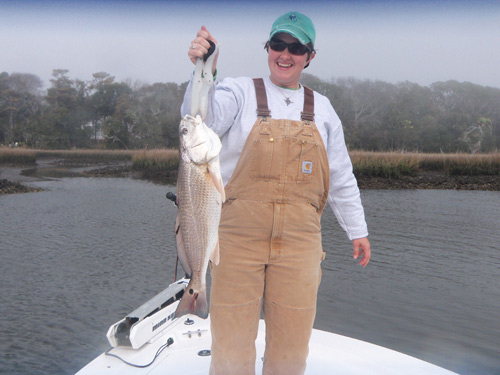 2/23/12 Amy with a red that hit a chunk of blue crab on a carolina rig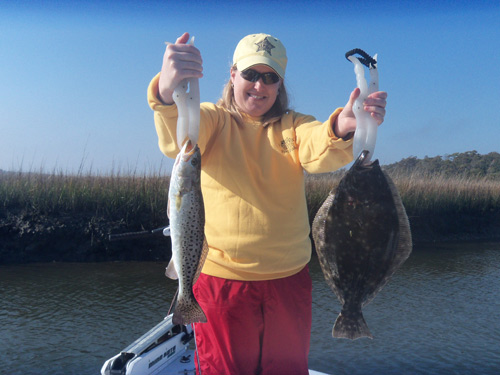 2/23/12 Colby with a nice spec and flounder that hit a Gulp Shrimp. We had a inshore slam on this day with a few reds, a trout, and two keeper flounder.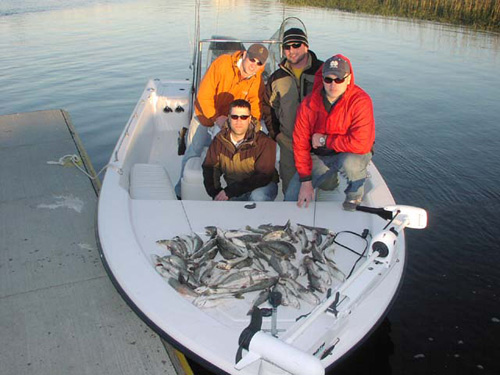 The whiting will be showing up soon in the mouth of the Cape Fear River. Putting big numbers of these tasty fish is always a possibility in March