Carolina Beach, Wrightsville Beach, Southport, and Bald Head Island Inshore and Backwater Fishing is Good!!!
The inshore and backwater fishing around the Cape Fear area has been good over the past couple of weeks. There have been a couple of tough days mixed in, but we have still managed a few fish on those days. The weather has been great for fishing the beautiful waters of the lower Cape Fear. We are catching redfish, flounder, sheephead, black drum, bluefish, croakers and a few other species. This pattern should continue over the summer months.
The redfishing has been a good with lots of double digit days recently. The redfish are schooled up on the flats and spread out along the marshes and creeks of the lower Cape Fear. The reds are hitting topwater plugs, DOA soft plastics, Gulp Alive baits and minnows on float rigs and carolina rigs. Most of the reds have in the 23″ to 25″ range with a few upper and over slot fish, along with a few under slots mixed in. These fish are so strong in the warm waters and an absolute blast to catch on light tackle. They have been really aggressive on topwater plugs, sometimes chasing these baits halfway back to the boat. This redfishing pattern should continue over the summer months.
The flounder fishing is picking up and should be getting better over the next couple of weeks. We are catching flounder on mud minnows, peanut pogies, DOA soft plastics and Gulp Alive baits. Flounder love Gulp baits and we have been picking up a few flounder when throwing artificials for redfish.
The sheephead are around bridges, docks, and other structure and are hitting fiddler crabs, sand fleas, and mussel clusters. I will sometimes get the mussel clusters off of floating docks and chum the sheephead to a piling, then drop a fiddler crab to the fish. We have to lock down the drags and get the fish out of the pilings. We have had several big sheephead break us off recently. Fishing for sheephead is challenging and lots of fun, and they are great to eat. There is also a chance of picking up a few black drum while fishing for the sheeps.
Both small and large bluefish are in the area and hiting all types of baits. We have been sightcasting to some large blues ( 8 to 10lbs) that are mixed in with some of the schools of redfish in the Masonboro Sound area. These fish are hard to stay hooked up to, but are a blast to catch when you do.
For small kids, we have been catching lots of croakers and other panfish to keep then busy. We can catch these fish along with the bigger fish such as redfish, black drum, and flounder. Watching small children catch fish is a blast and I had a nine year old catch a 8lb tripletail this week with the help of his dad. I can make inshore fishing very simple, similiar to fishing in a pond or lake for kids and inexperienced anglers.
Thanks for reading the report and check out some of photos from the past couple of weeks. These are just a few of the good catches we have had recently.
Thanks,
Jeff Wolfe
Seahawk Inshore Fishing Charters
Carolina Beach Inshore Fishing Blog
910-619-9580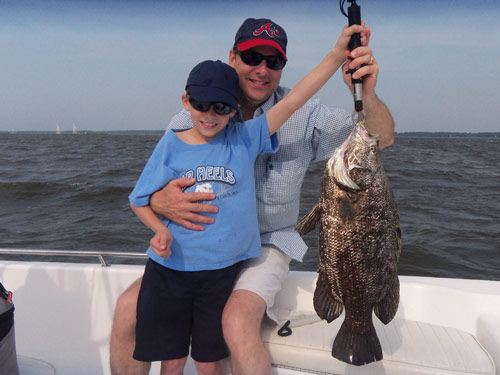 Ed and James with a 8.5lb tripletail they tag teamed fishing a mud minnow on a float rig. I saw the fish around a crab trap bouy and 9yr old James with the help of his dad did a great job getting this fish to the boat. The first thing that James said to me when he got on the boat was " I live to fish". I knew then it was going to be a good day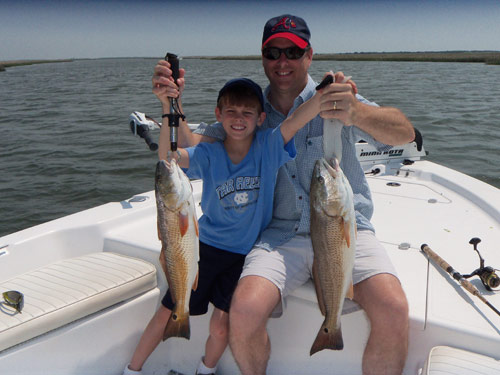 Ed and James had a great father and son trip fishing the beautiful backwaters of the lower Cape Fear.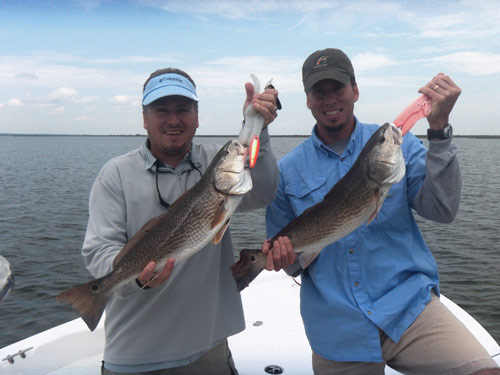 Kevin and John doubled up on reds casting topwater plugs in the Masonboro Sound area.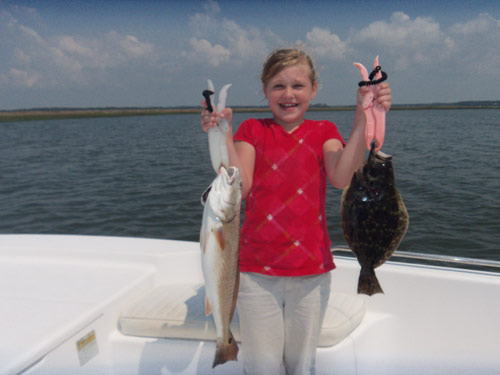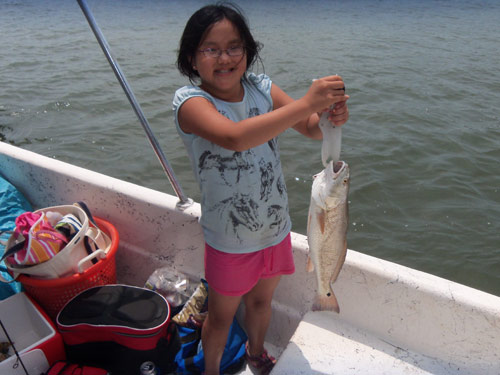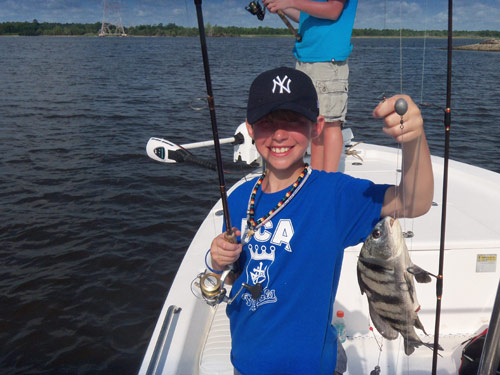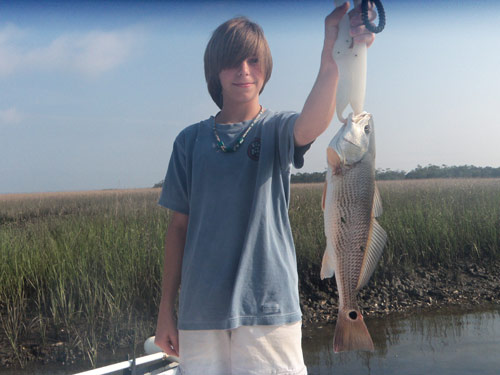 The kids have been having a blast catching reds, flounder and other species using the simple methods of fishing live baits and shrimp on float rigs and bottom rigs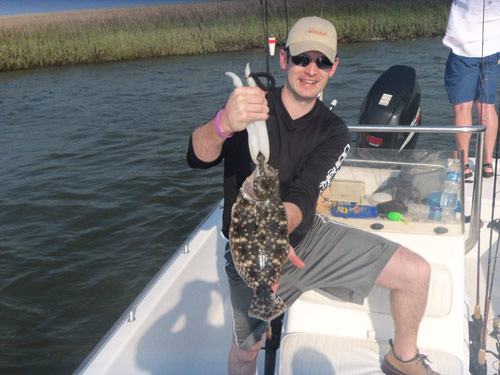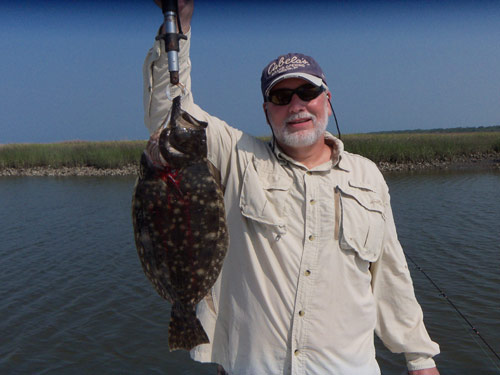 The flounder fishing is picking up. These flounder were caught on Gulp Alive shrimp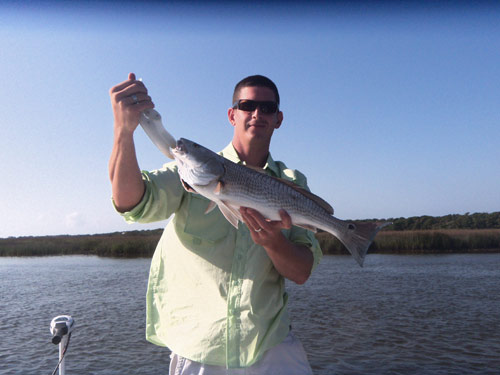 Jeff with a red he picked up casting a DOA paddletail jig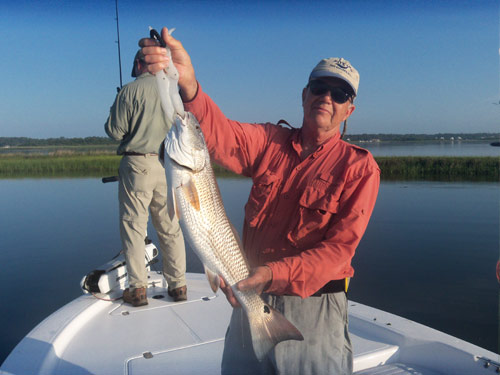 Jim with a red that inhaled a Zara Spook topwater plug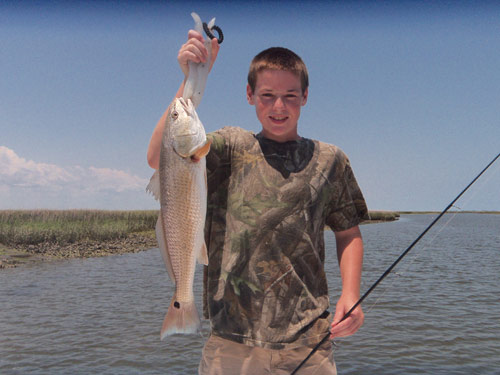 James with a redfish he caught fishing a mud minnow on a carolina rig in the creeks of the lower Cape Fear

Tim and Mike with a good catch of sheephead and redfish. Enough fish to feed the 20 or so family members they had at the beach house.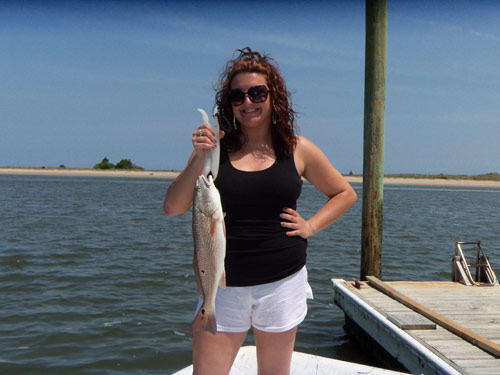 Sarah with a red she caught fishing a mud minnow around some dock pilings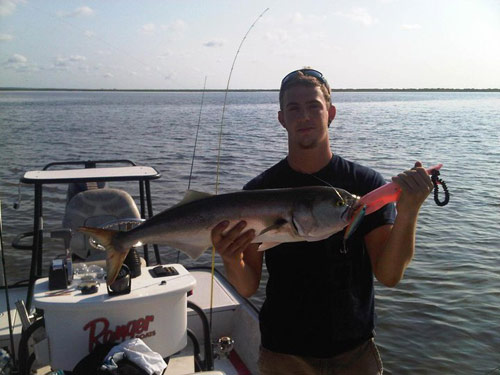 Matt with a large bluefish that inhaled a Rapala Skitterwalk topwater plug on the flats of the Masonboro Sound area. Large blues like this one have been mixed in with the schools of reds and tailing in a foot or two of water.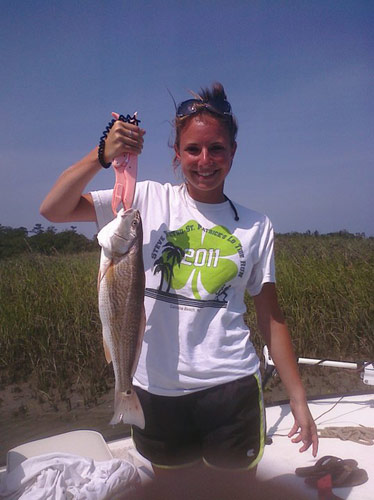 Kristin with a red she picked up fishing a mud minnow along a creek bank.