The inshore fishing has been good on most days and has shown a good sign of improving for the next couple of weeks. The water is warming rapidly and the flounder are starting to make their move into the inlets and backwaters. We have had some really good days with redfish along with some days we have caught just a few. There are also some black drum, bluefish, and whiting around. The sheephead and spanish mackerel are not far behind.
The redfish bite has been up and down over the past couple of weeks. We had a good day on 4/25 that produced 25 to 30 reds on mud minnows, spinner baits, Gulp Alive Shrimp, and DOA soft plastics. Some days it just takes a little searching, but normally we are able to find the reds schooled up. Once they are found, we have been able to pull some good numbers out of these schools. Most of the reds have been middle to upper slot fish with a few small ones mixed in. The topwater redfish bite is starting to turn on and this is a good sign for those of us that love catching reds on topwater and other artificials. For children and those that are not comfortable throwing artificials, we can catch reds and other species by using the simple methods of fishing live baits on float rigs and bottom rigs around known productive areas.
Within the next week or so we should have a good variety of fish to pursue in the Cape Fear area. Thanks for reading the report and check out some of the photos from the past three weeks. Hopefully I'll have a good report for the middle of May.
Thanks,
Jeff Wolfe
Seahawk Inshore Fishing Charters
Carolina Beach Inshore Fishing Blog
910-619-9580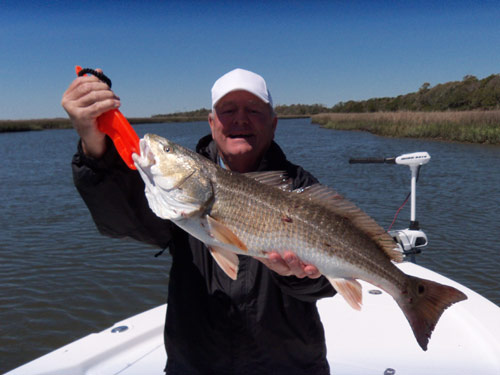 4/7/11 Bob with a over slot red he caught fishing a mud minnow pinned to a jighead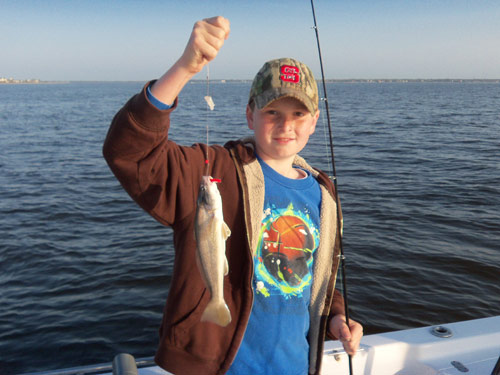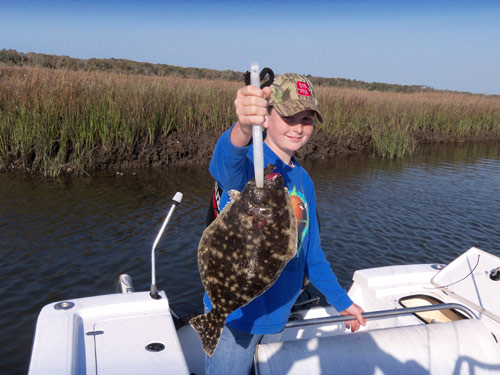 4/8/11 Jared with a whiting that hit a Fish Bite and a flounder that hit a mud minnow. He and his dad Kyle also picked up a few redfish and whiting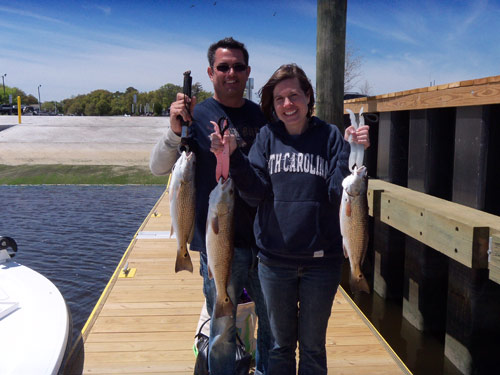 4/14/11 Mike and Lindsey with a few of the redfish they caught fishing mud minnows around some docks in the Masonboro Sound area.

4/15/11 Shelia, John, and Dan with a few of the reds and a black drum they caught fishing mud minnows and shrimp on carolina rigs.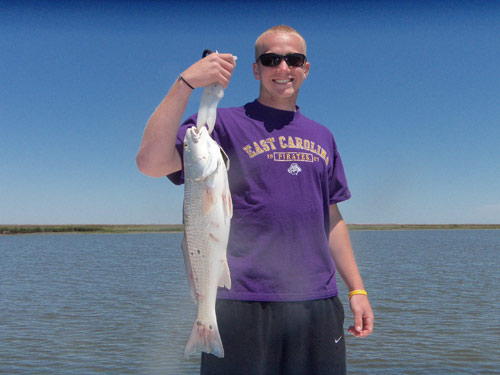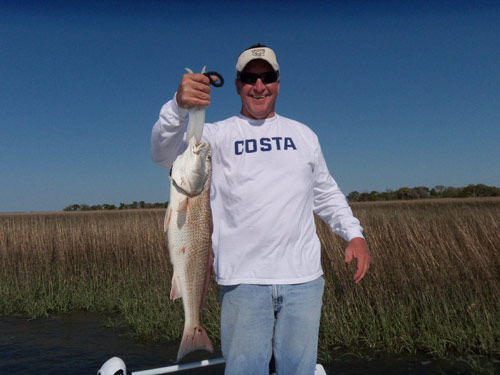 4/17/11 Brett and his dad Robert had a good father and son backwater redfishing trip fishing Gulp Alive Shrimp, DOA soft plastics, and mud minnows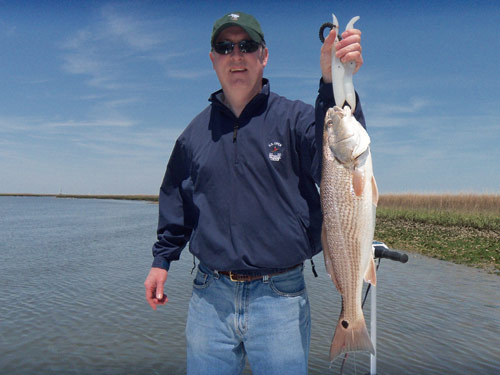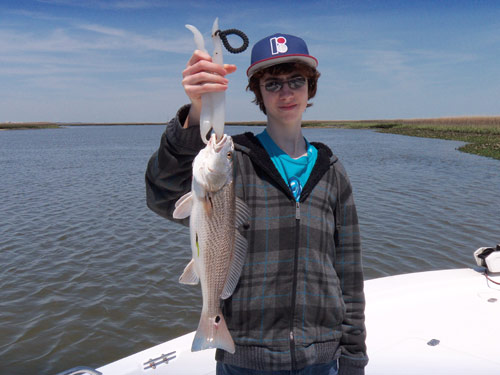 4/18/11 Tom and Tom Jr. also had a good father and son fishing trip in the beautiful backwaters of the lower Cape Fear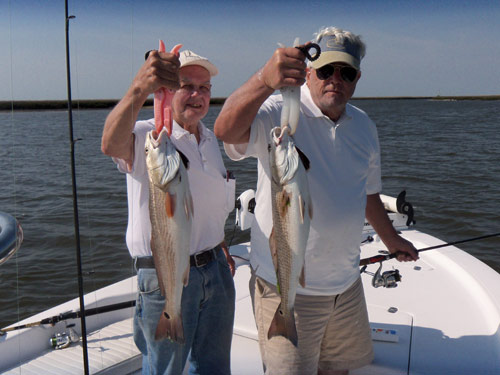 4/19/11 Jerry and Mike doubled up on reds fishing mud minnows on carolina rigs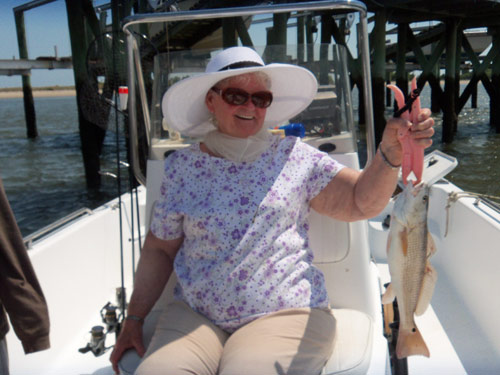 4/20/11 77yr old Veatrice looking good with one of the reds she caught fishing mud minnows on carolina rigs around some docks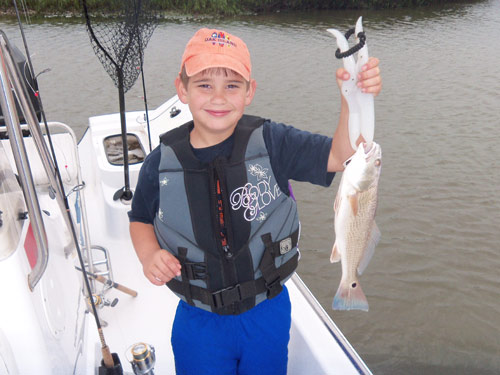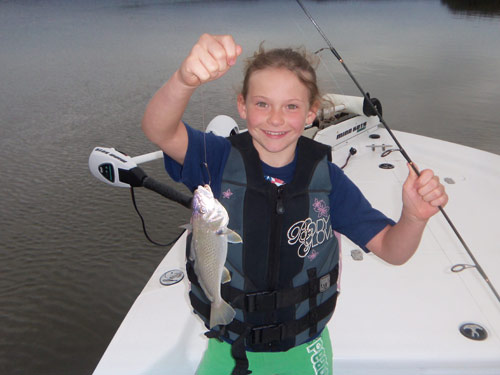 4/21/11 6yr old Noah and 8yr old Chloe with a couple of the fish they caught fishing shrimp on carolina rigs and two hook bottom rigs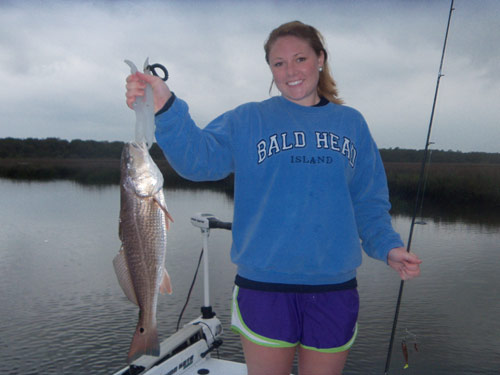 4/22/11 Jenna with a nice red she picked up casting a spinnerbait with a DOA soft plastic paddletail jig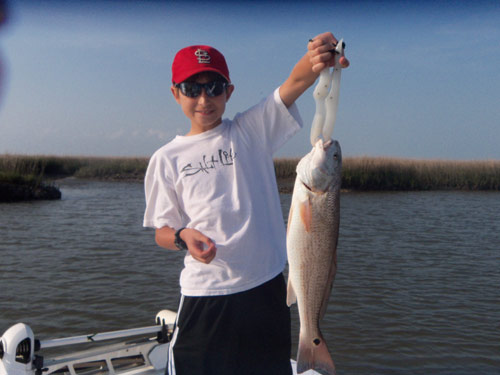 4/23/11 Zach with nice red he caught fishing a mud minnow on a carolina rig along a shell bank