The inshore fishing has been good the past couple of weeks, especially for redfish on the flats and the creeks of the lower Cape Fear. There are also a few trout be caught, and the stripers are in the upper Cape Fear River. The cold, windy weather has made it tough, but we are still catching fish in the protected creeks on these days. Hopefully the temps will get back to normal and there will be some good fishing opportunities for the next couple of weeks.
The redfish are schooled up on the flats and smaller pods are working the muddy bottom creeks of the lower Cape Fear area. We have had lots of double digit days lately with around 35 to 40 fish on the best day. Most of the reds have been caught blindcasting soft plastic and scented artificials in the creeks. On the calmer days we are able to sightcast to the large schools working the flats and the smaller schools along the creek banks. When the reds are finicky we are picking up some fish by casting mud minnows on light jigheads into areas where the fish are holding. There are also some reds being caught around docks along the waterway.
The speckled trout bite has slacked off due to the extremely cold weather we have had, but we are still picking up a few fish. The fish are there we just need some warmer days to turn the bite on and get the water temps up a few degrees. The striper fishing has also been good in the upper Cape Fear River.
Check out the photos from the past few weeks. As long as the weather cooperates and gets back to normal I should have a good report for the next couple of weeks.
Thanks,
Jeff Wolfe
Seahawk Inshore Fishing Charters
Carolina Beach Inshore Fishing Blog
910-619-9580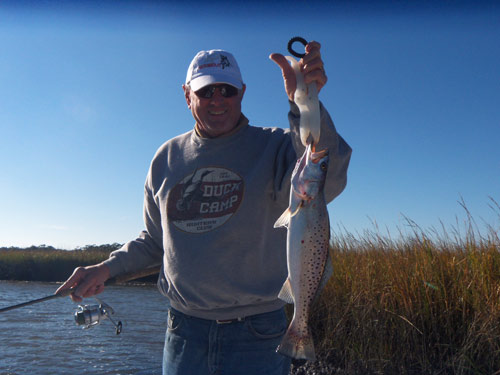 11/24/10 Dennis with a nice spec caught on a soft plastic jig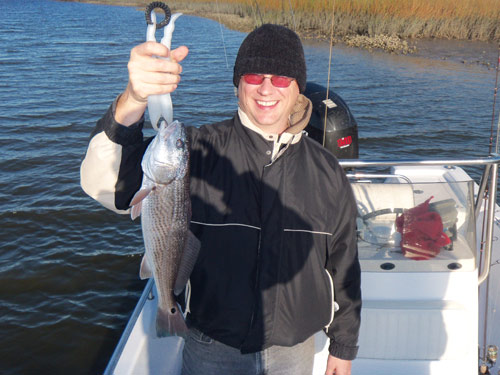 11/24/10 Mark with a red that fell for a mud minnow pinned to a jighead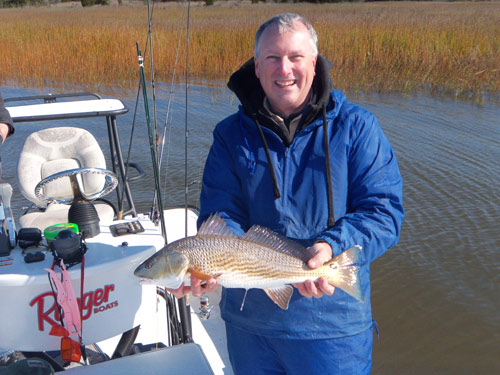 11/27/10 Rick with a red he caught on a Gulp Alive shrimp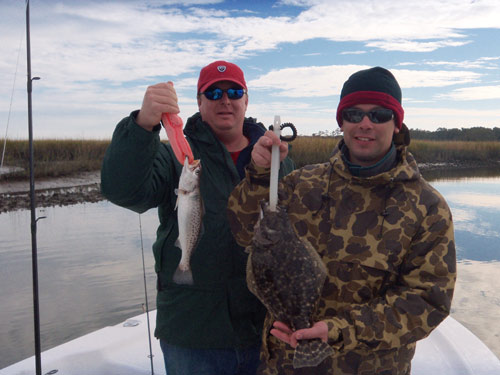 12/4/10 Darrin and Keith with spec and flounder caught on Gulp Alive shrimp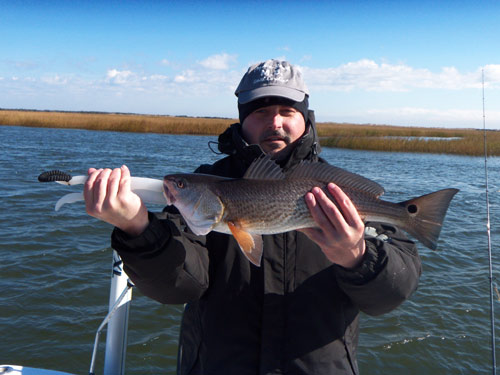 12/10/10 Gary with a red that hit a DOA soft plastic. This was a good day in the creeks with NE winds 10-15 and highs in the lower 50's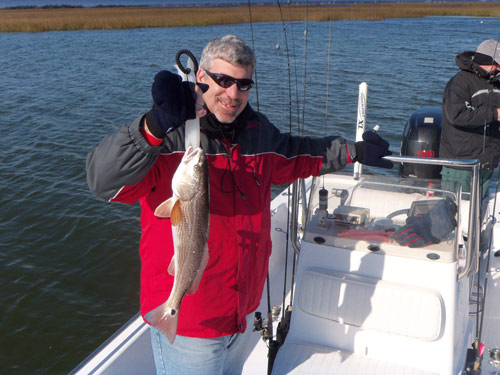 Jason with one of the 35 or so he and Gary caught on 12/1010
My son Christian and his fishing bud Alex have caught good numbers of reds on some cold, windy, and rainy days recently. These guys are hardcore and will fish in almost any conditions since they only get to fish on the weekends. I know they are looking forward to the Christmas break. These are some pics from their trips.