The inshore and backwater fishing remains good despite the record rainfall we had recently. We are catching good numbers of redfish and sheephead, along with a few speckled trout and flounder. The speckled trout were just starting to show up good before the rain slowed the bite. After the water clears up the flounder and trout bite should pick back up.
The redfishing has been good in the creeks and bays of the lower Cape Fear on artificials and live baits. Gulp shrimp and spinnerbaits have been effective atificials lately in the muddy water. Live minnows and shrimp on float rigs and carolina rigs are the best method for putting good numbers of reds in the boat. We are also picking up a few speckled trout and flounder while fishing for the reds.
The sheephead bite has picked up and should continue thru the month of October. These tasty fish are larger this time of year, a blast to catch, and very challenging to get out of the pilings or other structure they are feeding on. We are also picking up a black drum or two while fishing for the sheephead.
Whiting, spots, and gray trout should start showing up along the lower Cape Fear River shipping channel the middle of October and continue thru November. For those that interested, putting big numbers of these tasty panfish are always a possibility this time of year.
Thanks for reading the report and check out the photos from the past couple of weeks.
Thanks,
Jeff Wolfe
Seahawk Inshore Fishing Charters
Carolina Beach Fishing Blog
910-619-9580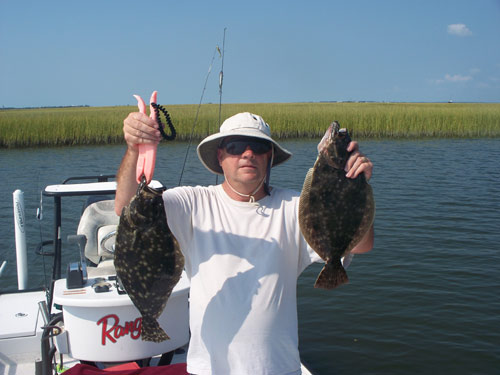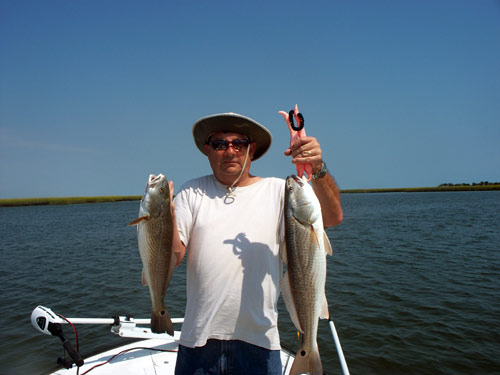 9/22/10 Mike with a couple of the flounder and a couple of the redfish he caught fishing spinnerbaits and soft plastics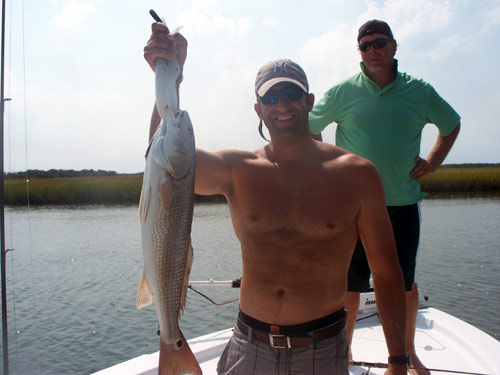 9/23/10 Travis with one of the upper slot reds he caught fishing live minnows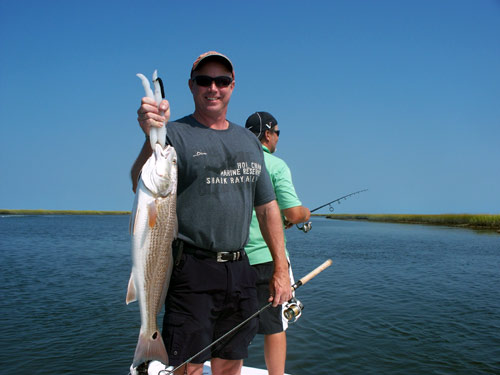 9/23/10 Mark with one of the upper slot reds he caught fishing paddle tail jigs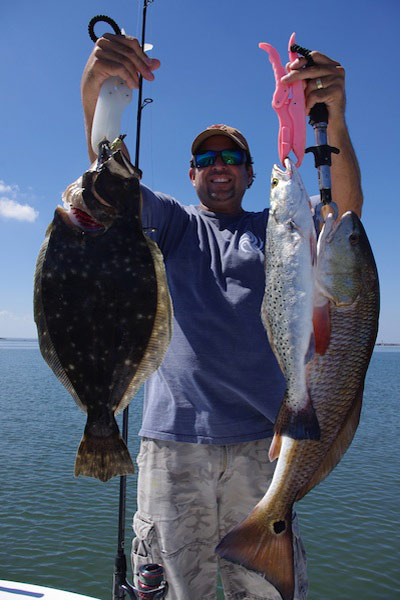 9/29/10 Joe with a inshore slam all on artificials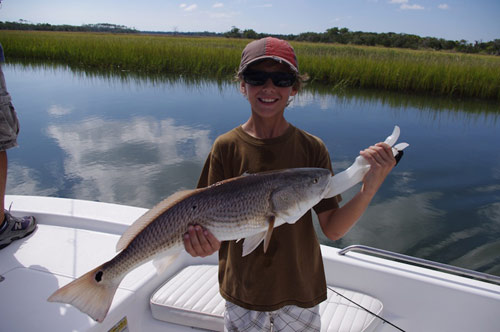 9/29/10 Stone with a upper slot red he caught on a paddle tail jig. He also caught several speckled trout on topwater and jigs. This kid is one heck of a fisherman for a ten year old.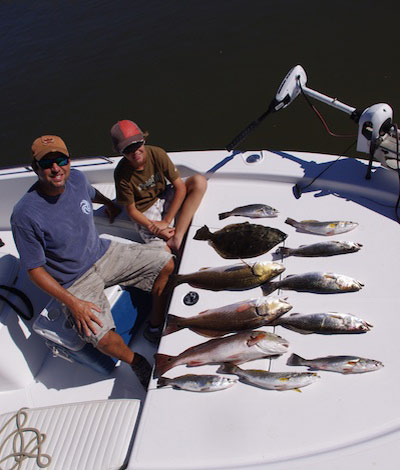 9/29/10 Joe and Stone with a few of the trout and reds they caught on topwaters, jigs and popping floats. This was a good day with 18 trout, 15 reds, and a four pound flounder.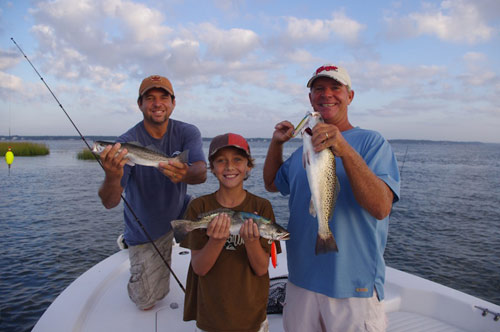 9/29/10 The specs were starting to show starting in good numbers before the heavy rain. This was the result of a triple hookup fishing topwaters and a popping float rig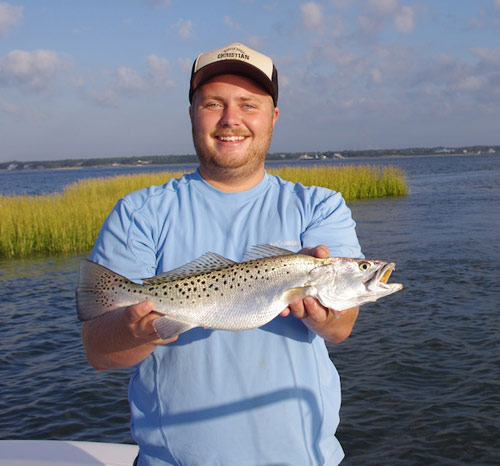 Luke with a nice spec he caught on a suspending mirrolure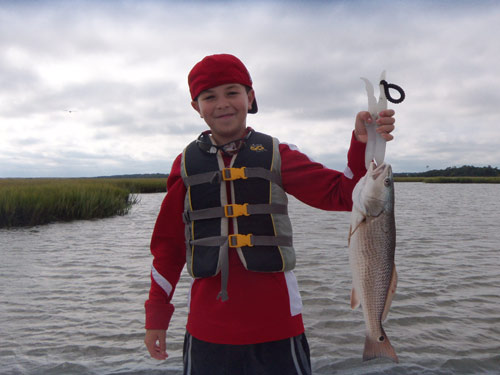 10/1/10 Grant with nice red he caught fishing a live shrimp on a float rig.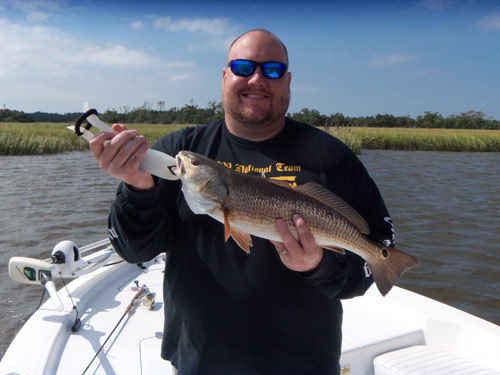 10/2/10 Morgan with one of the reds he caught fishing a shrimp on a float rig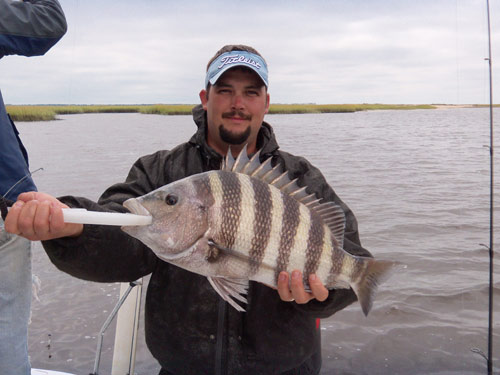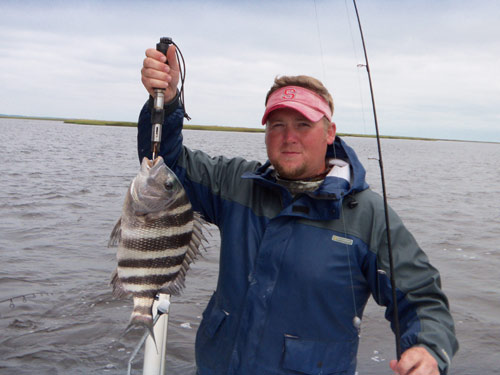 10/4/10 Jeremy and Lucas with a couple of the sheephead they caught fishing live crabs on carolina rigs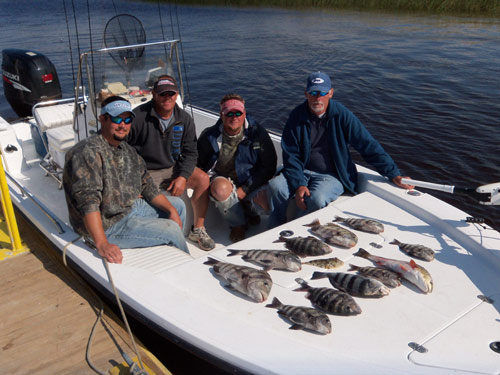 Jeremy,Lucas, Robert, and Jerry with a good catch of sheephead, black drum, and red drum on 10/4/10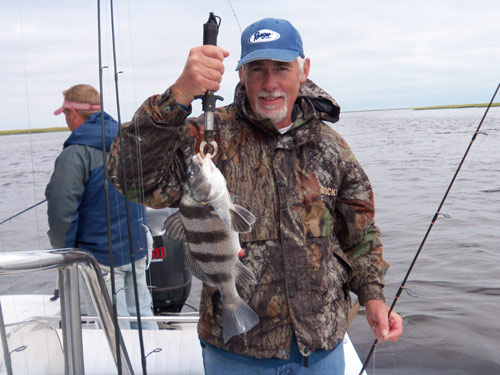 10/4/10 Jerry with a black drum he picked up fishing for sheephead around some pilings in the lower Cape Fear