The inshore fishing is good and getting better with catches of redfish, speckled trout, flounder, and sheephead. This is a great time of to get out there and get those inshore slams. There will be lots of good fishing oppurtunities coming up with cooler temps and less people on the water.
The redfish bite has been really good with lots of some drag screaming over the slot fish being caught this past week. The reds are schooled up on the flats, and some smaller schools are working the shellbanks in the creeks of the lower Cape Fear. We are catching the reds on spinnerbaits, soft plastics, and topwater plugs for those that like to fish artificials. Live baits have been the ticket, especially late morning and afternoon. Looks like it is going to be an awesome fall for redfishing.
The speckled trout fishing is picking up and will be getting better. The specs are spread out in the Cape Fear river and falling for an assortment of artificials and of course live shrimp on float rigs and bottom rigs.
The flounder fishing has been good around the grass islands and docks in the Cape Fear area on live mullet and peanut pogies. We are also picking up some flounder throwing artificials for reds and trout in the creeks of the lower Cape Fear river. Look for the flounder fishing to get better as the fall fishing season approaches.
The sheephead bite has also been good around docks and other structure using fiddler crabs. Check out the photos from the past couple of weeks. I should have a good report for the middle of Sept..
Thanks,
Jeff Wolfe
Seahawk Inshore Fishing Charters
Carolina Beach Inshore Fishing Blog
910-619-9580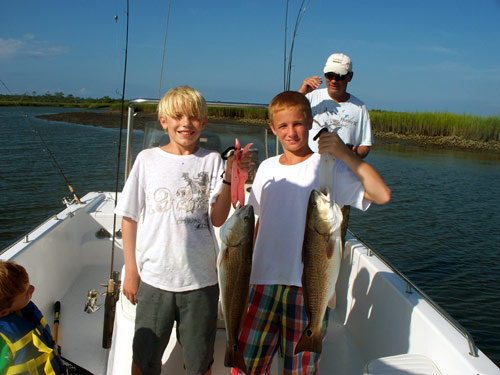 8/18/10 Laden and Tate doubled up on upper slot redfish. We caught close to thirty on this day.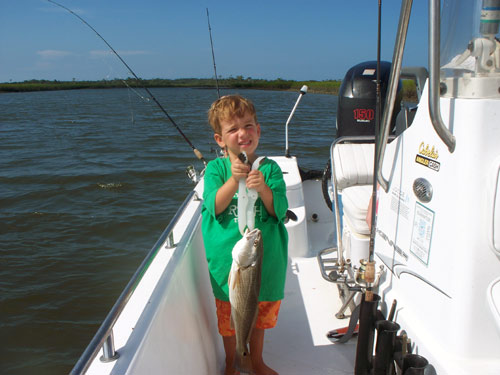 8/18/10 Lucas with lower slot red. This 3 yr.old did a great job on the boat and reeling in this red.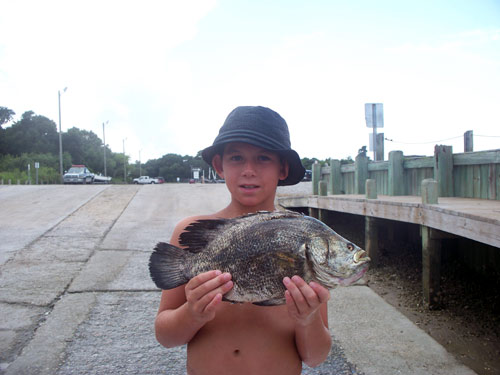 Zach with a tripletail we caught on 8/19/10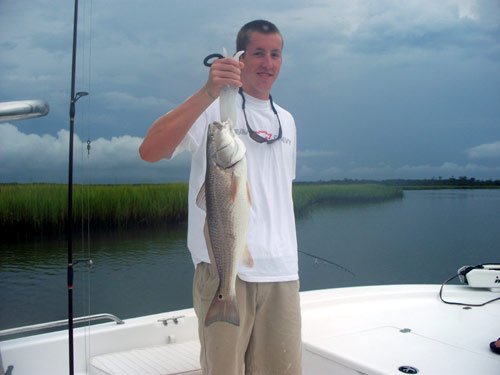 8/20/10 Wilson with a nice red he caught blindcasting a paddletail jig along a creek bank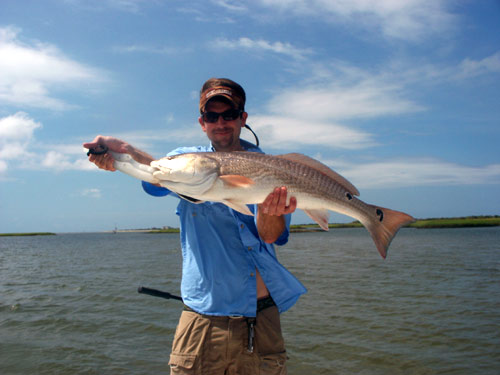 8/21/10 Seth with a drag screaming 34 incher he caught sightcasting to a school on the flats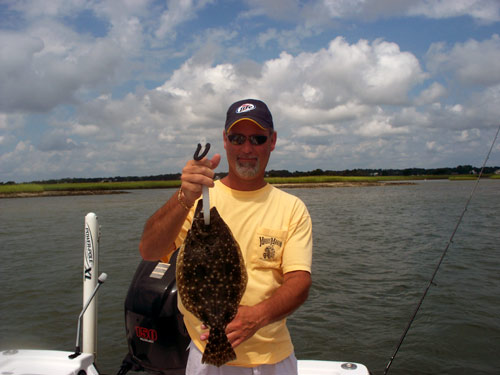 8/21/10 Richard with nice flounder he caught on a paddletail jig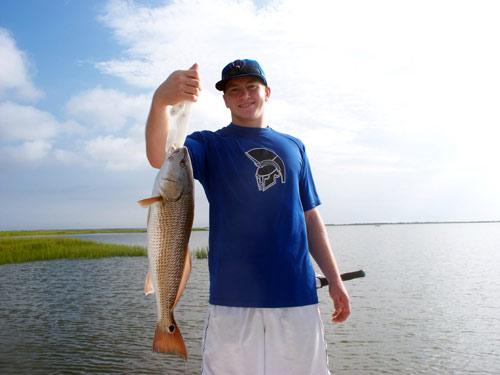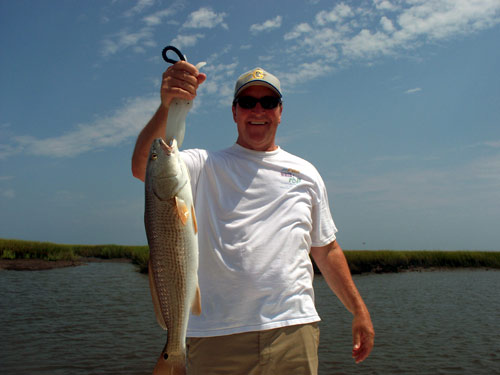 8/23/10 Brett and Robert the father and son dynamic duo tagged teamed good numbers of reds on artificials and live baits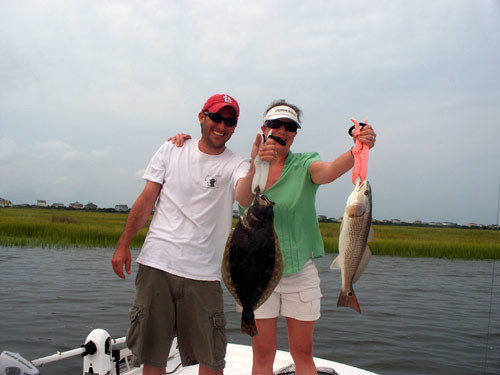 8/27/10 Alexis and Travis doubled up with a flounder and redfish using live mullet minnows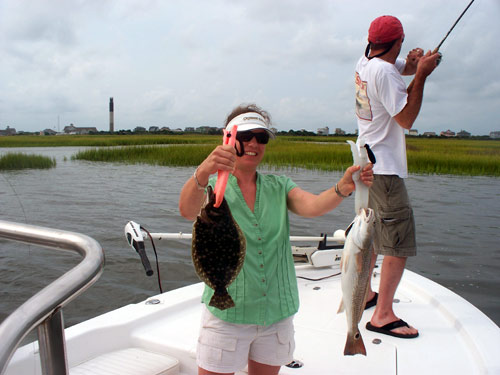 Alexis with a back to back flounder and redfish catch while Travis is hooked up with a redfish on the bow

Travis with the largest red of the day, caught float fishing a live mullet minnow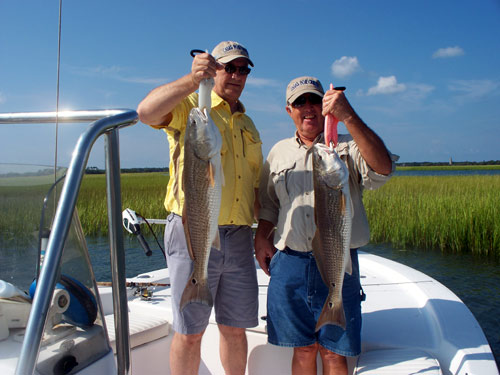 John and Marvin doubled up on over-slot reds blindcasting jigs along a creek bank. Marvin hooked up with his fish and the rest of the school followed his fish around, then John threw into the school and hooked up with his.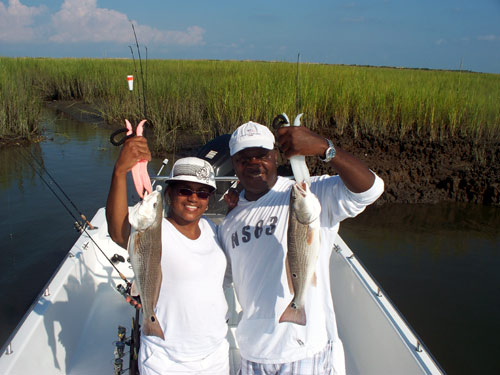 8/29/10 Travis and Lynn doubled up on reds fishing live mullet minnows on carolina rigs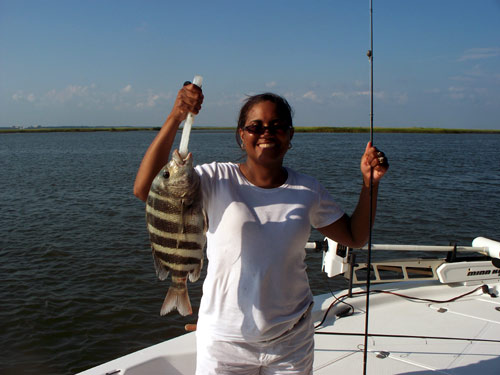 Lynn with a nice sheephead she caught fishing a fiddler crab around some pilings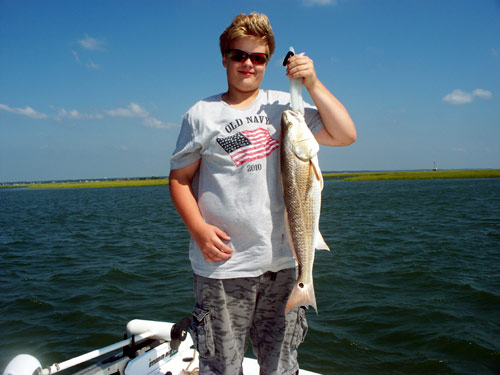 8/30/10 Chistopher with a over-slot red he caught fishing a live mullet minnow on a bottom rig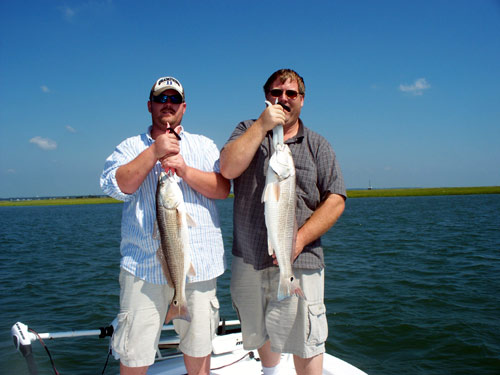 8/30/10 Michael and Brian doubled up on over-slot reds along a shelly creek bank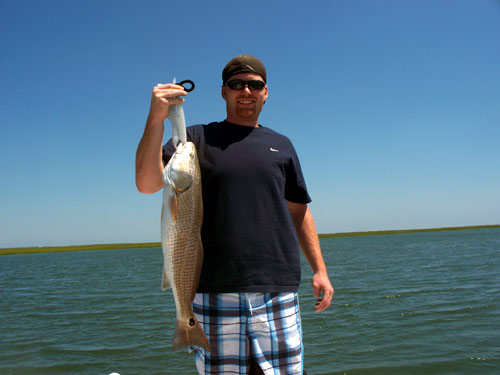 8/30/10 Matthew with yet another over-slot redfish on light tackle. What a blast!!!