The inshore and nearshore fishing is heating up with catches of red drum, black drum, speckled trout, flounder, sheephead, spanish mackerel and bluefish.
We have been catching good numbers of red drum around docks, oyster rocks, and by sightcasting to some nice schools on the flats. Most of the reds are in the slot with a few that have been nice drag screaming over the slot fish. The reds have been caught by sightcasting and blindcasting artificials, mud minnows on jigheads, float rigs with live minnows, and carolina rigs with fresh shrimp.
The black drum are still being caught by fishing carolina rigs baited with fresh shrimp around docks, rock piles, and oyster rocks. The speckled trout bite has been off, but should improve in May. Flounder and sheephead are also starting to make a showing and that should also start to improve over the next couple of weeks.
The spanish mackerel are right off of the beach and small and large blues are both inshore and nearshore. There will be some great sightcasting to these these fish when the conditions are right.
My son Christian hooked a tailing 10lb bluefish by sightcasting an artificial in a foot of water. He lost the fish boat side after a couple of long runs and two jumps. He was using a Shimano Stradic 1000 spinning reel spooled with 6lb braid and 6′ Shimano Compre rod. I guess we'll call it a catch since he didn't have a dipnet.
There are going to be some good fishing oppurtunities over the next few weeks with the variety of fish the Cape Fear waters have to offer. Check out the photos from the past couple of weeks. These are are just a few of the good catches we have had lately.
Thanks,
Jeff Wolfe
Seahawk Inshore Fishing Charters
Fish Carolina Beach Blog
910-619-9580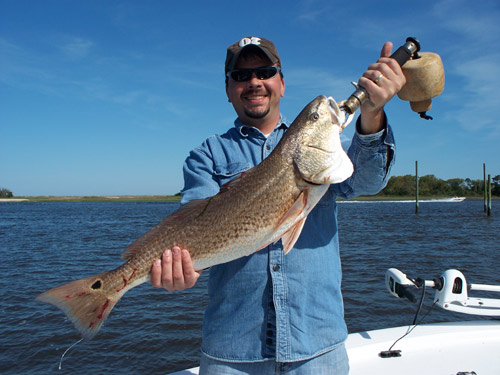 Adam with a 29″ redfish caught around some dock pilings on 4/18/09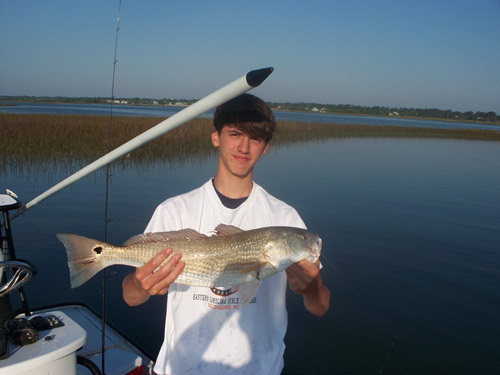 Kenny with a nice red he caught with a perfect cast into a school on 4/25/09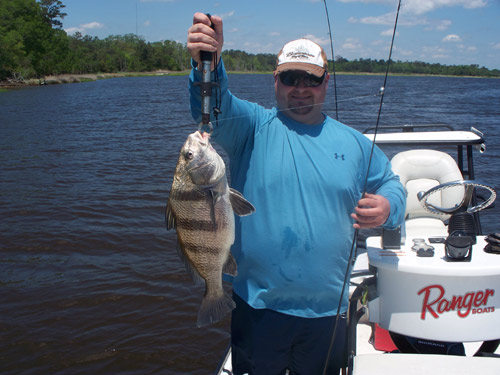 Jason from Blacksburg,Va. with a nice black drum he caught on 4/28/09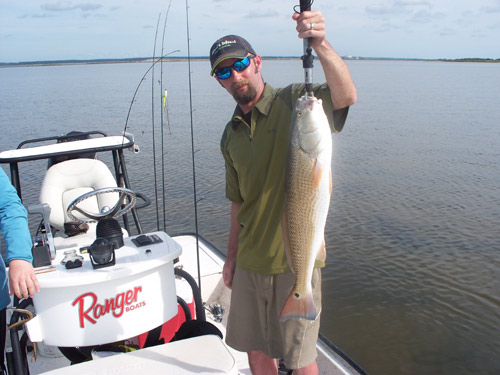 Rob from Blacksburg,Va. with a over the slot red he caught sightcasting on the flats on 4/28/09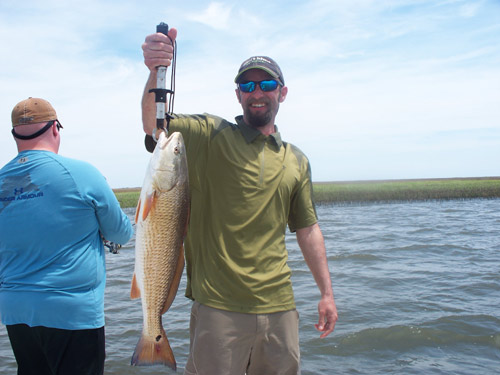 Rob with one of the several nice reds he caught on 4/28/09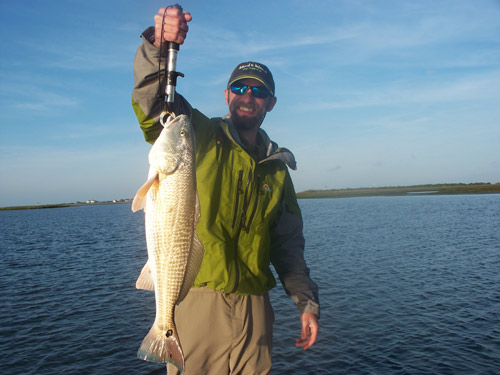 Rob again Sorry Jason he was just lucky